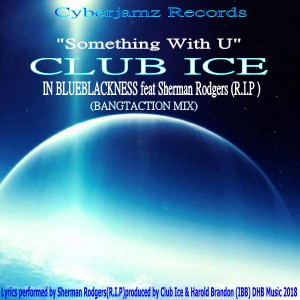 Cyberjamz Records News & upcoming Hot Release Alert !!
"Something With U" – Club Ice & IN BLUEBLACKNESS feat Sherman Rodgers (R.I.P )(Bangtraction Mix) – Cyberjamz Records.
The hard get sought after Club Ice joint "Something with U" featuring the late Sherman Rodgers(R.I.P) & Brandon Harold (IN BLUEBLACKNESS). will be finally be released on Cyberjamz Records in a few weeks as we put the final touches and mastering behind this epic cut. Risk-taking is a crucial part of audio production, from the small and mundane to the sweeping and spectacular. For example, there is an element of risk both in trademarking the record label name (will it gain recognition or get lost in the vast amount of existing content?) and making the final decision on the harmonic progression for a bridge.
We make decisions every day that require risk-taking, and any given day-in-the-life of an audio producer is especially full of them, for example one of the first and most essential task is managing the forensic watermarking, which helps to secure your audio or other digital content from theft so you know your music will be safe from stealing. While the level of responsibility and authority varies based on the position, each contributor must sift through a variety of options, and oftentimes, take the plunge. There is no directional guide for creativity; there is only you and your intuition.
We truly hope it gets the love and support the track deserves.
In addition, this is not only a fantastic vocal piece performed by both artist and producers but it's one of the last tracks produced by Sherman Rodgers. Let us celebrate his legacy with this release as we encourage all deejay's and music lovers to purchase this joint and show our love to one of Chicago's true legends of music. In the words of Harold Brandon (Brandon Dee), "It was a hard loss for me and the music industry" and "I didn't want to release this cut just yet but the World will be better place once they get to hear how talented Sherman was and the impact he and Club Ice have made throughout the years in Chicago". Hearing Brandon share with me about his talents and musical background, along side his character summed it up for me and I'm so proud he choose my label (the peoples label) Cyberjamz Records to represent Sherman and this wonderful package. In closing I would like to share at that I remain at awe at how great Sherman was in his days on Earth.
A huge thank you to Catherine Harris Rowell(DjHousecat(la gata de fuego) for dropping this jam throughout this year's #HOTWMD events. A very special thanks to Black Terry,Jozana Sithole Dovie Cotae and a few key deejays in Chagao for rocking it and introducing it to all sides of Chitown USA. Also, big shout-outs and early support to my boys Hippie Torrales, Mikki Afflick Jorge Garcia,Ian Friday, Byron B-Note Brown , Sahib Muhammad,Damond Ramsey ,Dj Brian Pope & Oji Morris among a few others that been killing this joint from New York to Baltimore USA.
Lyrics performed by Sherman Rodgers(R.I.P)
produced by Club Ice & Harold Brandon (IBB)
copyright & publishing by DHB Music 2018.
*Offical cover art will be posted soon
*Another SoulCat Coyote Entertainment Joint 2018.