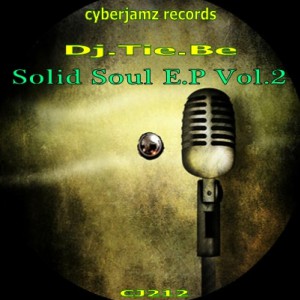 Cat #CJ212
Artist: DJ Tie Be
Release:Solid Soul E.P Vol#2
Label: Cyberjamz Records
Target Release Date Jan 19,2018
Dj Tie Be returns to us with another true afro soul EP featuring some obscure and unique mixes just like the first Solid Soul E.P which can be picked up at http://bit.ly/2A28nVw We hope you can close your eyes and listen … while dancin.
Tracklist:
1.Call To Action (6:35)
2.Na be Way (5:20)
3.Pivio (4:20)
4.Chants From Eden (5:50)
produced by Dj Tie Be
Another Coyote Entertainment Joint 2018.
A&R SammyRock.
licensing and info:
contact sammyrock@mail.com
Artist/producer Facbook:
https://www.facebook.com/dj.tie.be
Cyberjamz Records on FB.
https://www.facebook.com/groups/cyberjamzrecords/
Cyberjamz Music Group Page:
https://www.facebook.com/groups/cyberjamz/
Twitter:
https://twitter.com/_cyberJAMZ
Follow us on instagram
https://www.instagram.com/cyberjamz/
#housemusic #dance, #dancemusic, #realhousemusic, #housemusicallnightlong, #internetradio, #housedj, #femaledj, #cyberjamz, #afrohouse, #latinhouse, #undergroundhouse, #housemusiclovers #househead, #housenation, #remixer #musiclovers #deephousemusic #techhouse #chicagohousemusic #soulfulhouse #gospelhouse #classichousemusic, #disco, #houseparty, #downtempo, #musicislife, #dj, #djlife, #djstyle, #neosoul, #oldschoolhiphop #edits, #electronicdancemusic,