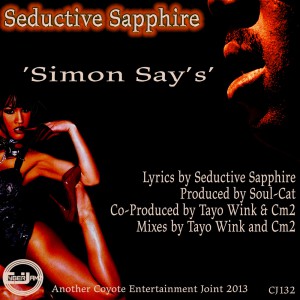 Seductive Sapphire returns with "Simon Say's" (Incl Mixes by Cm2.Tayo Wink, Dj Eddie-Ed & Dj Punch n Flip Ent.)Cyberjamz Records
out now !!!
http://traxsource.com/title/269285/simon-says-mixes-by-tayo-wink-cm2-and-dj-eddie-ed
Seductive Sapphire returns with a fun poem entitled "Simon Say's" which delivers that chuckle down your soul and with the producers hot on her trail,the music is bangin ! Making this one a good one for any dancefloor. Tayo Wink's remixes never disappoint and he offers us 2 hot mixes to choose from. Cm2 out of South Africa brings yet another deep tech house piece that will have your dancers in the frenzy ! while Dj Eddie-Ed brings his own interpretation tribal style ! Dj Punch and Flip Ent close out this nice package with a lovely Jersey style remix.
Lyrics by Seductive Sapphire (BMI 2013)
Produced by Soul-Cat
co-produced by Tayo Wink & Cm2
Another Coyote Entertainment Joint ASCAP 2013.