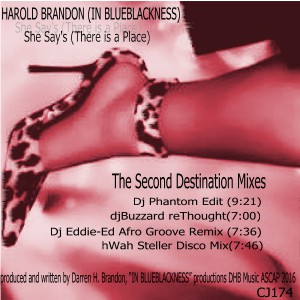 Cat#0174
Release: She Say's(There is a Place) (The Secondary Destination Remixes)
Artist: Harold Brandon (IN BLUEBLACKNESS) (Mixes by Dj Phantom,Dj Buzzard,Dj Eddie-Ed & hWah)
out now http://bit.ly/2djzNb0
Pick up Part One – The Original Mixes at http://bit.ly/2ceLiCb
Once again thank you Mike Michael Fossati for the review.
Harold Brandon (InBlueBlackness) "She says (there is a place)" (The Second Destination Remixes)(CyberJamz Records CD Promo)
In April of this year, we proudly introduced you to the phantasmagorical "She says (there is a place) by Chicago's own Harold Brandon, a smooth yet spell binding utterly soulful gem perfectly showcasing his unique haunting vocals which are accompanied by glamorous keys, dreamy chords and a groovey organic backdrop. Now we are being blessed with a superlative selection of inspiring remixes by DJ Buzzard, DJ Eddie Ed, DJ Phantom and hWah, with each of these highly talented producers adding his distinctive touch to the song, making it next to impossible to pick a favorite version.
Review by Michael Fossati of spiritofhouse.com
There is something special about this artist and producer in that he can transform his voice from Sade to Marvin Gaye and just about any vocalist out there.. this is a unique talent that only a few possess. When you hear this piece ,it will take you there…. to that place that she says… either it be that spiritual place,the dance floor or that hidden cozy place you to meditate.. the lyrics and music will let you flow.
This is yet another favorite release of mine that I truly love and we hope you do too !
Tracklist:
1)Dj Phantom Edit (9:21)
2)djBuzzard ReThought (7:00)
3)Dj Eddie Ed Afro Groove Remix
4)hWah Steller Disco Remix (7:46)
produced and written by Darren H. Brandon, "IN BLUEBLACKNESS" productions DHB Music ASCAP
Artwork by SammyRock
Photo: Tina Troung
A&R SammyRock
licencing and bookings:
sammyrock@mail.com
Another Coyote Entertainment Joint