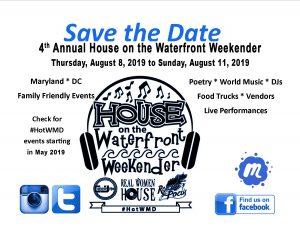 SAVE THE DATES !! SAVE THE DATES!! Thursday Aug 8th – Sunday Aug 11,2019.
Cyberjamz Radio™ , Catherine Harris Rowell – Real Women House™ and Rescue Poetix™ Management present the 4th Annual House on the Waterfront Weekender™, starting Thursday August 8th thru Sunday August 11th,2019 in DC/Maryland/Virginia and surrounding area's.
What is #HOTWMND ?
House on the Waterfront Weekender is a three day event which we have offered to our music community for the last four years that pulls community, music and Arts elements together to create an experience that offers something for everyone. It's family friendly oriented experience featuring Cyberjamz Radio house music deejay's , a poetry showcase, an opportunity to escape for the weekend and support our musical culture in our State of Maryland.
*A full list of music programmers will be posted soon and subject to change.
Tickets prices for the Black & White Dance Party will be announced soon and will be offered at eventbrite.com
Line-Up for all events TBA (subject to change)
*Sound systemby Keith Porter of Porterhouse Music NYC.
Stay connected and event info: https://www.facebook.com/events/608191789610440/
A look back of pictures ,videos and other thangs Waterfront : https://www.facebook.com/hotwmd/
#HOTWMD Closing Party at Bladensburg Park 2018. https://www.facebook.com/events/272202490201324/
Follow #HotWMD on IG http://www.instagram.com/hotwmd/
Twitter: https://twitter.com/HotWMD
All events Sponsored by Real Woman House™,RescuePoetix Management™ & Cyberjamz Radio™ #savethedate #hotwmd #cyberjamz #realwomenhouse #rescuepoetixmanagement