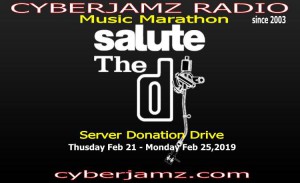 Here we go again !!
Salute the Dj Music Marathon & Server Donation drive at Cyberjamz Radio will run from Thursday Feb 21 thru Monday Feb 25,2019.
We at Cyberjamz Internet Radio (since 2003) Salute ALL music programmers from across the World and we appreciate you for your continued dedication to our music and community. It is the culture of our music that make us continue our journey through life and the way we express ourselves is a mirror image of our lives. As for me,through faith in the higher power,family,friends and music combined has saved my life.
If you have a moment check into our Salute the Dj Music Marathon & Server Donation Drive 2019 as we continue to serve our music community. Check in today as we kick things off at 9am est USA TIME and ending Monday at 2pm est USA TIME. Thanks to all of our sponsors,music programmers,Cyber-Team and YOU the lovers of music for all the support !
Make any size donation pay pal to samuelacosta@hotmail.com If you would like to use another method of payment please get at me . Saluting Dj's since 2003.
Thanks to all of the lovers of music for your continued support.
SammyRock C.E,O of Cyberjamz Radio.
Catherine Harris Rowell V.P of Operations at Cyberjamz Radio
http://cyberjamz.com