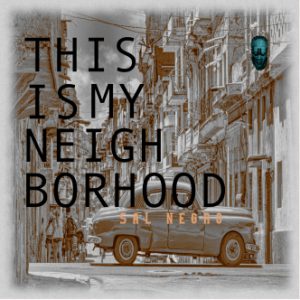 Complete Album Review & Pick of the Week goes to Sal Negro "This is my Neighborhood"  AYIZE SONGAA RECORDINGS
When we hear the name Sal Negro, we quickly know the titles of "Afro and Cuban" together of which becomes synonymous with his famous "Afro-Cuban Experience Shows. Sal is back in 2020 armed with a masterful thirteen-track collection of music ranging from downtempo, jazzy grooves, soulful house, and more. There a few collaborations in this project with artists such as Diamondancer, David Angel & Jesse Szabo respectively, that made music magic together for this wonderful package. Let me begin my review and journey by setting the mood right. Let me start by lighting up a candle and a cigar as I pour myself a glass of Cognac on the rocks.
The introduction to this wonderful package is a piece by Sal & David Angel entitled "Just around the Corner". This opening piece is a funky display of instrumentation that flows like fine wine. This track is right down my alley and to those that enjoy downtempo grooves, this one if for you. as we go into the next track which is a sensual vocal piece featuring one of house music's queens of spoken-word, Diamondancer. What a deep track this is entitled "My Brother (For Hope, For Love) is one of my favorites offered in this package and not to take away from the other great pieces as all tracks were produced to reflect a part of Sal Negro's experiences while living in his neighborhood. Track three also delivers another gem by Diamondancer as she throws down serious spoken-word gem and is perfectly titled "The Ghetto Has No Color", this track here takes a closer look into the ghetto life with all ethnic backgrounds living together despite our differences.
The next release up is another favorite of mine and it's a beautiful jazzy flavored soulful house tune, properly named "Ashe Blessings". This one is right on the money and spiritual in nature as the track "All In Your Eyes" follows suit in this series of funky jazzy downtempo joints that will leave you at awe. The next track featured is just gorgeous and right on time for those peaceful moments entitled "When I Fall Asleep" which is a laid-back jam laced with a hot piano riff and those musical elements we all have come to love throughout the years. Let us continue with this review while I fill my second glass of Cognac.
I'm going to start by asking a question, have any of you ever taken a "Central Park Stroll" alone or with your significant other? If so then play this fantastic track out while you take that stroll in the park or jam it through your devices., then you too will experience the power of good music. You won't be disappointed! This musical journey continues with another genuine cut "Concord Rain", a funky soulful jam that reminds me of those old school breakbeat tracks we played outdoors at block parties. This one here is hot! Moving right along with this jam-packed album is the slower but effective "Cool Spirit". This cut offers a wonderful display of music and tells us a story , also demonstrates that a track does not have to be 125 + BMPs to be able to rock a dance party or mix. In addition, this wonderful production took me to my Taino Indian roots as the music truly moved my spirit. This one gave me a look into Sal and his Afro-Cuban Experience.
What else can I say about the album and eleventh track other than Sal really put his heart and soul into this release cause "Sunshine Lake Memory" is deeply rooted for your mind,body, and soul. Let us now take a musical trip into "Yo! Witch Be Cool", I kinda chuckled at the title at first but after playing it over and over again I found this jam to grow on and has quickly become another favorite of mine.
The closing track of this exceptional album is entitled "This Is My Neighborhood" with vocals spoken-word by Sal Negro himself feat. Jesse Szabo. This one here describes different life experiences of growing up, living, and taking care of the neighborhood, along-side our people. Jesse Szabo really jammed his ass off on this cut!
All and all, this package is for the open-minded individual or anyone that enjoys a quality music album period. In addition, this is a very well produced album and it will be on rotation for a long time to come. By far this package is Sal Negro's best work to date.
Reviewed by SammyRock aka Soul Oasis & Catherine Harris Rowell (DjHousecat(L gata de Fuego) for Cyberjamz Radio/Records 2020.
https://cyberjamz.com