SAL NEGRO
OWNER OF THE AFRO-CUBAN EXPERIENCE
CO-OWNER & LEAD A&R FOR DAGOSTAR RECORDS
BIO
Born in the heart of Santa Clara, Cuba in 1961, it was obvious from the time he could play guitar that Sal Negro would have a life filled with music.  Raised in the Bronx, New York, Sal was introduced to music by Juan Gonzalez, Puerto Rican choreographer Polly Rogers, and visual artist Jose Velazquez at the South Bronx Community Action Theatre.  By 8 years of age, he was already playing Spanish classical music. In 1976 he began his career as a DJ, knowing little about the adventure he was about to embark upon.
Sal Negro has seen the birth of house music in New York City, has seen the rise and fall of mega clubs like Studio 54, the Paradise Garage, the Tunnel, the infamous Limelight, and Sal has somehow remained a staple in the scene, withstanding the test of a true artist…  the test of time.  While headlining countless events both domestic and abroad and also has enjoyed playing along side world renown DJ's, artists and performers, Sal has remained true to his roots, forever embedding his name in the history of the New York City club scene.
"In my life I have had the pleasure of being the type of DJ that has been able to really call himself a performer. I connect with the people through a spiritual connection that makes me turn what I do into a performance and not just a set. Nothing else is more uplifting than performing. I take my years of performing in genres of Rock, Latin, World Beat, Electronic and Alternative and put it into how I feel while I perform.  DJing along side friends such as Gary Fritz (GF Wicked), Joe Clausell, Scott Wozniak, Bobby Morales, Danny Krivit, DJ Suede, DJ FM, Jihad Muhammad, Chino 3, DJ Dat Gurl aka Curly, Tony Lebron, Duce Martinez, AceHouseNation, David Morales, Static Plastic, DJ Peace, David Castellano, Brandon Morales, and others have given me a broader sense of how blessed I am."
After 10 years in the UK and Japan, in 2005 Sal Negro came back to NYC to begin his next era in music, this time by producing and engineering music, while expanding his appreciation of music and the art form of DJing. Today Sal Negro continues to follow his passion, spinning at best house venues New York has to offer: Sin Sin, Cielo, The Sullivan Room, Empire Hotel, Pink Elephant, the Box and many other venues, and across the United States including corporate events for clients like Tangueray, Johnnie Walker, Diesel, the NBA, GMHC, Housing Works, and more.  Sal Negro has traveled the world, spreading his trademark sound, loving every minute of his journey.
Inspired by his love and passion for music, those that know Sal will tell you "The unwavering smile on his face is a testament to his love for what he does."
CONTACT INFO:
646-331-5700
LABELS:
DAGOSTAR RECORDINGS
MEZZO RECORDINGS
LIBERATE RECORDS
CYBERJAMZ RECORDS
EWONDER INTERNATIONAL RECORDS
MAN MACHINE PRODUCTIONS
HANG SESSIONS
DISCOGRAPHY:
DESTINY EP BY RESCUE POETIX
DESTINY (SAL NEGRO T.A.C.E. MIX)
DEEPISM VOL. 1 (COMPILATION)
TAKE ONE BY SAL NEGRO
SEDUCED EP BY JOHNNY DANGEROUS ft MONA BODE
SEDUCED (SAL NEGRO BUSTELO MIX)
RESIST EP BY RESCUE POETIX
RESIST (SAL NEGRO 5840 MIX)
SUNSHINE AND SWEET KISSES EP MARSHALL MUSE SESSIONS VOL. 1
SUNSHINE AND SWEET KISSES (ORIGINAL MIX)
SUNSHINE AND SWEET KISSES (SAL NEGRO SMOOTH DUB)
125TH STREET LENOX AVE EP
125TH STREET LENOX AVE (SAL NEGRO MIX)
125TH STREET LENOX AVE (SAL NEGRO TEMP RISING MIX)
125TH STREET LENOX AVE (MAIN MIX)
TAKE MY BREATH AWAY EP BY TRIBE FRANKO
TAKE MY BREATH AWAY (SAL NEGRO ACOUSTIC GROOVE MIX)
TAKE MY BREATH AWAY (SAL NEGRO SOUL BREAK MIX)
            STRAIGHT FROM THE BOTTOM EP
STRAIGHT FROM THE BOTTOM (SAL NEGRO ORIGINAL MIX)
STRAIGHT FROM THE BOTTOM (SAL NEGRO DUBSTRUMENTAL)
            CAN'T SLEEP EP BY SAL NEGRO & MONA BODE
CAN'T SLEEP (ORIGINAL MIX)
CAN'T SLEEP (SAL NEGRO PNB MIX)
            SOMETHING FOR THE EVERYDAY EP
SOMETHING FOR THE EVERYDAY (ORIGINAL MIX)
SOMETHING FOR THE EVERYDAY (JAZZITUP MIX)
U KEEP THEM WAITING (ORIGINAL MIX)
            STANDING ON MY OWN EP
STANDING ON MY OWN
PARKSIDE MANOR
PARKSIDE MANOR (INSTRUMENTAL)
PARKSIDE MANOR (SUNDAY AFTERNOON MIX)
*SAL NEGRO EPs (BOLD)
LINKS:
FACEBOOK: https://www.facebook.com/pages/Sal-Negro-Music/63347380688
SOUNDCLOUD: www.soundcloud.com/sal-negro
MIXCLOUD: www.mixcloud.com/sal-negro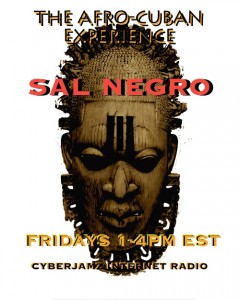 TRAXSOURCE: http://www.traxsource.com/index.php?act=search&ss=SAL+NEGRO&sc=artists
AFRODESIAMP3.COM: http://www.afrodesiamp3.com/catalog/dagostar-recordings-sunshine-sweet-kisses-negro-smooth-p-25870.html