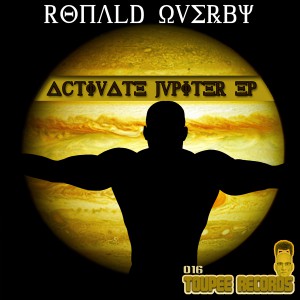 Cat# Toupee017
Title: Activate Jupiter E.P
Artist: Ronald Overby (Dj Ronnie Ron)
label: Toupee Records
out now Toupee Recs
Activate Jupiter E.P – Ronald Overby (Dj Ronnie Ron) – Toupee Records
After a long hiatus and return to the production action is Ronald Overby (Dj Ronnie Ron) who delivered us his first E.P "The Naked Truth" (Cyberjamz Records) which came with 5 wonderfully deep house pieces that will move your soul.Now he upped his game with this exceptional second  E.P entitled "Activate Jumpier E.P" to be released on Toupee Records fall of 2014,
This wonderful dance music E.P kicks off with "Activate Jupiter" a captivating piece with all the right elements to satisfy any dance floor at any time.The next track in this hot package is the banging piece  "The Name Dropper" with vocals by Ronald Overby and comes with a slamming instrumental mix to extend this already vocal deep spoken-word  track.To end this wonderful E.P is the lovely "West Kinney",a dance floor musical journey done proper.
All and All this package has something or everything for everyone ! Looking forward to hearing and releasing more by this producer in the near future.
Tracklisting:
1)Activate Jupiter – Activate Vocal mix (10:21)
2)Activate Jupiter  – InstruDUB mix (10:21)
3)The Name Dropper – BaldHeadedToupee Mix (6:39)
4)The Name Dropper – BadASSinstrumental Mix (6:39)
5)West Kinney –  Vocal Mix (7:48)
6)West Kinney – NWK   DubMental Mix (7:48)
all tracks,  Produced, Arranged, Performed, Mixed by  Ronald Overby (Dj Ronnie Ron)
Booking,contact and info:
monsterkeeperfishkeeper3@gmail.com
Facebook:
https://www.facebook.com/monsterfishkeeper3
Cover: JorgeG Graphix
Keep your ear to the ground – Toupee Records
Another La Gata de Fuego Joint – 2014.
Pick up The Naked Truth E.P out now Cyberjamz Records –   http://www.traxsource.com/title/362058/the-naked-truth-e-p