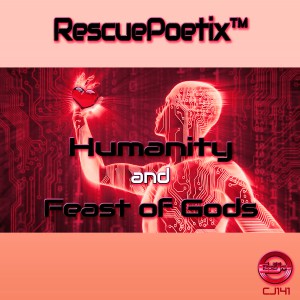 Cat#CJ141
Title:Humanity/Feast of Gods – RescuePoetix – Tier Ra Nichi & 12Shades Mixes
Label: Cyberjamz Records.
Target Release Date: Feb 06,2015
RescuePoetix "Humanity" / " Feast of gods" (CyberJamz Records CD Promo)
Spoken word artist RescuePoetix is on a roll at the moment, with her latest offering being this fabulous two track release on CyberJamz Records. Both tracks feature her one-of-a-kind seductive vocals stylings, with "Humanity" being an utterly deep truly hypnotizing affair combining the vocals with ruthlessly thumpin' rhythms and dreamy atmospheric melodies, while "Feast of gods" uses a warm organic percussive backing as playground for the vocals, lush chords, classy sax and sublime jazzy piano.
Reviewed by Mike Fossati of Spirit of House.
Tracklisting:
1)Feast of Gods – 12 Shades Mix (7:04)
2)Humanity – Tier Ra Nichi Big Room Remix (7:17)
3)Humanity – Tier's Deep Powder Mix (7:28)
4)Humanity – Tier's  Ra Nichi Deep Vox Mix (7:29)
Vocal lyrics performed by RescuePoetix(tm)
produced by 12 Shades & Tier Ra Nichi
Original piece written by : Rescue Poetix(tm)
copyright: Susan Justiniano BMI 2014
Booking and Info
RescuePoetix(facebook)
Email: rescuepoetix@gmail.com
sammyrock@mail.com
Cover Art by JorgeG Graphix
jorgegee@gmail.com
Keep your ear to the ground – Cyberjamz Records
This is another Coyote Entertainment Joint 2014.