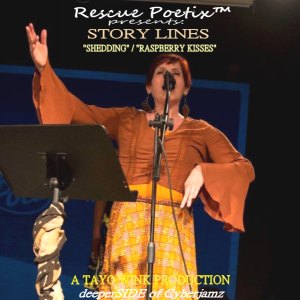 Hot Release Alert !
Rescue Poetix™ presents: Story Lines featuring "Shedding" & "Raspberry Kisses" 2019. – Zona Soul – Tayo Wink coming soon to deeperSIDE of Cyberjamz Recs.
Zona Soul – Tayo Wink has been on fiya in our music circuit producing some amazing work on our labels and now on his own brand KeeSoul Music. This particular EP features one of our spoken-word Queens RescuePoetix™ .in which she delivers two powerful pieces in "Shedding" , a lyrical ride with real talking points about life which gave me goosebumps and a lovely rework of one of my favorite RP pieces in "Raspberry Kisses", Both of these cuts are delicious and well produced by Zona Soul. So keep your ear to the ground as we close out 2019 on a high note with a few upcoming power hits for the dance floors.
target release date Oct 25,2019. – deeperSIDE of Cyberjamz Records.