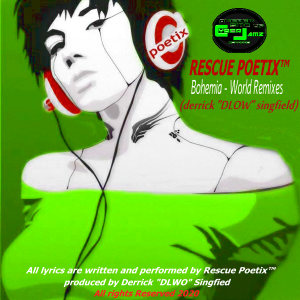 HOT RELEASE ALERT x 3. Rescue Poetix™ – Bohemia (The World Remixes) Derrick "DLOW" Singfield coming soon deeperSIDE of Cyberjamz Rex.
Here we have our 3rd installment of this magnificent release by RescuePoetix(TM) & Derrick "DLOW" Singfield. These World Mixes give us insight into connecting with the world in her originally produced, written, and performed Bohemia. Telling this story through her signature style of weaving imagery and lilting vocals, Bohemia leads us to a world otherwise shrouded or ignored by everyday life. In this latest deeperSIDE of Cyberjamz Records Release, Derrick DLOW Singfield delivers two exceptional mixes of which both are worth having in your collection music.
Pick up the Alpha Female and Alpha Male Mixes out now deeperSIDE of Cyberjamz Records.
All lyrics were written and performed by Rescue Poetix™
produced by Soul Oasis
co-produced by Rescue Poetix(TM) & Derrick "DLOW" Singfield
copyright Susan Justiniano BMI 2020
Booking and Info
RescuePoetix(Facebook)
https://www.facebook.com/RescuePoetix
Email rescuepoetix@gmail.com
sammyrock@mail.com
contacthousecat@gmail.com
Another SOULCAT Joint 2020.