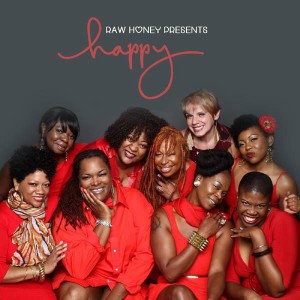 Raw Honey Presents: Happy – a fantastic FREE release of Brilliant Poets set to Honeycomb's Magical Music
FREE DOWNLOAD LINK: http://honeycombmusicstore.com/happy
PRESS KIT LINK: http://honeycombmusicstore.com/happypresskit.pdf
ONE-SHEET LINK: http://honeycombmusicstore.com/happyonesheet.pdf
BEHIND THE SCENES VIDEO #1: http://youtu.be/9wJoKoMZ4ds
DESCRIPTION:
Just in time for Black Friday, Honeycomb Music brings in the Holiday Season with the new album, "Happy."
Josh Milan, longtime producer, singer, songwriter and DJ, has partnered with poetry collective Raw Honey to develop the new digital release. All of the poems are written about the theme happiness and they are backed by Milan's signature beats and melodies and even a few vocals.
Offered as a free download, this release will be available from the Honeycomb Music Store on Fri., Nov. 29 — Black Friday.
The lushly produced "Happy" is easy on the ears and even easier on the budget because it is a totally free download.
"Since our inception, we have been overwhelmed by the support fans have given our music releases. This project started as a gesture to thank our supporters and provide broader exposure to some of my poetry colleagues," said Josh Milan, CEO and Founder of Honeycomb Music. "But it morphed into something much bigger and much more special than we anticipated. The nine women represent a range of different life perspectives. And as the project progressed they have bonded and gained inspiration from each other. They soon dubbed themselves Raw Honey and resolved to let other artists know that it is never too late to pursue artistic dreams."
Produced by Milan, "Happy" showcases thought-provoking, approachable poetry paired with Jazz, Funk, Techno, World Beat and, of course, House. The poets themselves range in experience from a first-time performer to regulars on the spoken word scene to a seasoned literary writer to an internationally known House Music spoken word artist. Each member of Raw Honey wants to empower others through art. "What blows me away most about Raw Honey is their courage and their openness. All of the poets are over 30 and some are in their 50s. Although this business is often about youth culture and catering to the mainstream, they have turned that notion on its ear. This poetry project will be inspirational to all types of artists. And, frankly, that makes me happy," said Milan.
The members of Raw Honey are: Tantra Zawadi, Rescue Poetix, Debbie "Sanctuary" McRae, Brown Sugah, Sage Youngblood, Rhonda Welsh, Carolyn "Diamondancer" Ferrari, BNanaz Sweets, and Nicole "Essence" Jenkins-Watson.
Official credits and info:
http://honeycombmusic.blogspot.com/2013/11/raw-honey-presents-happy-fantastic-free.html?m=1