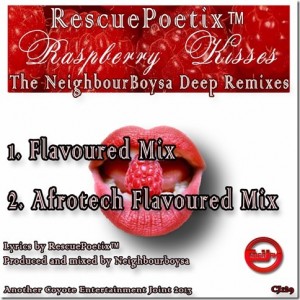 Cat #CJ129
Title: Raspberry Kisses- The Deep Remixes by Neighbourboysa
Artist: RescuePoetix™
out now !
 http://traxsource.com/title/253778/raspberry-kisses-neighbourboysa-deep-remixes
The HOT RescuePoetix™  returns armed with one of South Africa's best kept secrets in producer Neighbourboysa.These Deep Remixes are just that ! Deep,Sensual,Afro-Tech and delicious with lovely spoken-word vocals that add another dimension to this already slammin release.
Pick up the Original Raspberry Kisses with mixes by Cm2,Tayo Wink, DJ General Slam, DJ Punch, Maminstrumental, Mmino Africa, Soul-Cat and Tribe Franko.
Rescue Poetix "Raspberry kisses" (NeighbourBoysa Remix)(CyberJamz Records CD Promo)

A few weeks ago, we introduced you to "Raspberry kisses" by RescuePoetix, an entrancing truly precious production featuring the alluring poetry of one-of-a-kind spoken word artist RescuePoetix who talks about the passion of a 'raspberry kiss'. Now we can enjoy remixes by NeighbourBoysa who takes the song to deepest house music territory, combining the unmistakable spoken word poetry with inebriant synth melodies and spell binding afrotastic rhythms. His 'AfroTech' version further intensifies the vibe thanks to pulsating afro-tribal rhythms and ethereal melodies.
Review by Mike Fossati of Spiritofhouse.com
Music Video Clash
http://youtu.be/91A6KkWf-jQ
purchase here
http://traxsource.com/title/241958/raspberry-kisses
Performed by: Rescue Poetix™
Original piece written by : Rescue Poetix™
RescuePoetix BMI 2011
Produced by Neighbourboysa 2013.
Cover Art: Jorge G for Coyote Entertainment
Another Soul-Cat Joint for Coyote Entertainment ASACP 2013.