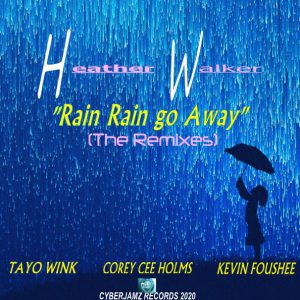 HOT Soulful Release Alert!
"Rain Rain Go Away" (The Remixes) – Heather Walker (Tayo Wink – Kevin Foushee & Corey Cee Holmes) – Cyberjamz Recs Target release date Feb 14, 2020.
Heather Walker returns with her Smash Single "Rain Rain go Away" and this time she is and armed with a few hot producers and remixers who took this wonderful song and flipped it into something very special. The first package included mixes by Glenn Gregory and Tayo Wink (Zona Soul) respectively. This time around Tayo Wink delivers a slamming soulful house remix that caters to all dancers and dance floors and It's just superb! while Kevin Foushee and Cory Cee Corey Cee Holmes both tagged team to bring us a HOT and I mean HOT remixes to add to this already banging package. I highly recommend music programmers to purchase the entire package as each mix is different but all just as effective.
Lyrics were written and performed by Heather Walker
produced by Tayo Wink, Kevin Foushee & Cory Cee Holmes.
*Track 1 is produced, arranged, mixed and mastered by Tayo Wink. for Zona Soul Music 2020.
*Tracks 2,3 and 4. All music played and programmed by Kevin Foushee and Cory Holmes
Vocal arrangements by Kevin and Corey.
Mixed and mastered by Kevin Foushee and Corey Cee Holmes
Thanks to Dj Drew Lock for the extra work on the vocals.
Heather Walker Music 2020
all rights reserved
Pick up the original mixes out now
https://bit.ly/336JEuT Junodownload https://bit.ly/37s2grP
Keep your ear to the Ground Cyberjamz Records 2020.