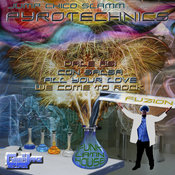 Experimenting with concepts of 201CThe Primary Sound Theories as described under The Universal Time Code.
The CutMaster Jump Chico Slamm compares Sonic Elements of House, Funk, Salsa, Club and Dance Hall with Caribbean, West African and Middle Eastern Rhythms, to combine them with various known Rhythm Systems in order to transcribe a new compilation of Sound Signals .
out now @Traxsource
1.All your Love
2. Con Salsa
3.Dale Asi
4.We come to Rock
After nearly destroying the Space Vessel 201CASR10, managed to transcribe the Sound Signals and returned to The Jamma Quadrant upon developing A New Sound Fusion Theory.
The Pyrotechnic System…
And Now!!………
By order of the Intergalactic Rhythm Principle and By Way of The Cutty One Sector..
Going Out to ALL Party Sectors..
Hugs and Kiss.For All Fellow Bros and Sis……
With ALL Love and No Disses to all Misters and Misses……
This is.
Pyrotechnics E.P.
As we control the Rhythm in this Sound Signal To Uphold
The Underground…
so that ALL Dance Floors Be Embraced..
by The Universal Time Code.
Jump Chico Slamm Transmitting Sound Signals To Your Galaxy.
Written by: Faustin Lenon ffingapop (ASCAP) Produced by: Jump Chico Slamm