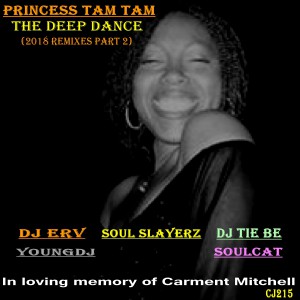 Ok ok.. so yall got on me about the new Erving Batista – DJ ERV Remix of "The Deep Dance" (Part 2) by Carmen Michell aka Princess Tam Tam (R.I.P) & some of the other dope remixes off this upcoming package.
Before I continue,I would like to send out prayers a give a spiritual shout-out to the Michell family and Carmen M aka Princess Tam Tam.I miss her so very much and like she had shared with me some time ago and I quote. "After we are all gone,we shall all meet and dance Again". Now that she is no longer with us for a time now.. I've decided to give her a musical tribute in hopes of reaching her spirit and soul beyond the stars or wherever she is waiting on us to dance again… The wait will be over this Friday May 13,2018 as this package will drop right onto your dance floors.

Dj ERV rocked the living daylights out of this track and is a quality remix. Next up,The Soul Slayerz Noir Remix by Tayo Wink & Hakeem Syrbram is well put together properly done.This afro flavor mix has a touch of Chicago House in there somewhere and is unique in it's own right. Moloko Manganyi (Youngdj) out of South Africa will take you on a serious afro-tech ride which is simply mesmorizing while Dj Tie,Be's Mix gives us a taste of his own interpretation.Both these mixes by these two producers are in the deep house catagory.Last but not least we Also for those music programmers that enjoy playing different or on a more pumpy,techy or electronic side ,we offer a re-work of the Original Deep Dance Soul Oasis Mix with a touch up by Catherine Harris Rowell – DjHousecat(la gata de fuego) aka SoulCat.
We hope you guys can support this remix E.P and all of our music project from the past to the present.Big ups to my team for your continued service for our musicial culture.
*Pick up part one remixes out now w/ Mixes by Glenn Gregory ,.Derrick DLow Singfield , Hugh Harrell IV – Dj Buzzard and Brian Nance – BTech SoulOfferingznyc at http://bit.ly/2C3CFcc
Another SOULCAT Joint 2018.