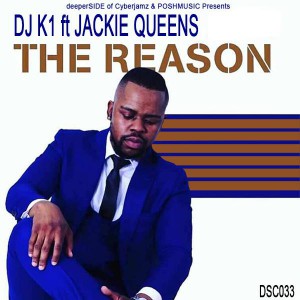 HOT Release Alert and House on the Waterfront JAM..
Cat# DSC033
Title: PoshMusic and deeperSIDE of Cyberjamz Records presents: "The Reason" – K1 feat. Jackie Queens
Release Date: Aug 31,2018. at traxsource.com
This lovely jam here was played quite a few times during our #HOTWMD event this year by both DjHousecat(la gata de fuego) and I and the response was amazing ! House heads were on that dance floor with their hands raised in the air and clapping their hands. K1 did a fantastic job in producing this gorgeous piece while Jackie Queens delivers sensual lyrics touching on a topic most of us have experienced in our lives at some point. The Reason is ALL THAT !!
Lyrics by Jackie Queens
produced and mixed by by K1 for Poshmusic
Cover Adjustment by Jorge Garcia (THANK YOU)
Keep your ear to the Ground – deeperSIDE of Cyberjamz Recs 2018.