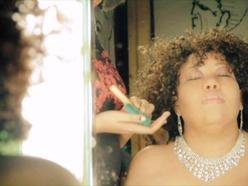 Cyber-Artist Showcase focuses on Petula Caesar – http://www.reverbnation.com/petulacaesar
Purchase Sex Shows – http://bit.ly/TCvPis    Cyberjamz Records
In the Dark –  http://bit.ly/XHGQdO    Cyberjamz Records
Bio
Petula is an author and journalist, a performance poet and a recording artist. Petula has been writing professionally for over fifteen years. As a journalist, her work has appeared in Baltimore's daily paper The Sun, Baltimore's alternative weekly City Paper, The Afro American Newspapers in Maryland and D.C., in Baltimore Magazine, in The Orlando Sentinel, and in numerous other publications in print and online. As an erotica author, her work has been featured in New York Times Best Selling Author Zane's erotica anthology Caramel Flava, as well as in numerous print and online erotica publications like Clean Sheets and Desdemona. She released her first erotica collection called Lipstick and Other Stories in 2006, published by Phaze Books. As a performance poet, Petula has appeared with The Punany Poets, and has travelled with her own show up and down The East Coast as an acapella artist and with her band LUVSTRUCK. She has performed at all kinds of venues ranging from the famous Bowery Poetry Club in New York City, to theaters like The Creative Aliiance in Baltimore, MD and The DC Arts Center in Washington, D.C., to nightclubs in Miami's South Beach at Winter Music Conference. Locally, she has performed at events like Epicurean Wednesdays hosted by Magic 95.9's Mykel Hunter at Select Lounge, and at Q Singles Sundays Valentine's Day Speed Dating events hosted by 92Q's Kiki Brown and LaDawn Black.
Her written poetry has appeared in literary journals like Poet's Ink and Two Trains Running. Petula is also a recording artist; her first spoken word/music CD, The Eargasm, featured the underground house/dance music hit song, Sex Shoes. Sex Shoes has been released in the States and in the UK, and over 30 "official" remixes of Sex Shoes have been recorded worldwide. She has also worked behind the scenes on all types of successful grass roots artistic endeavors — she has served as freelance writer and editor as well as a public relations/marketing professional. Petula has also recorded an audio book — a collection of 12 short stories. The audio book is entitled "Unusual Positions". Each volume of the audio book includes 3
stories and runs about 60 minutes. Unusual Positions: Volume 1 includes the stories: Lingerie, Footsie, and The Instrument. Petula is preparing to release her next collection of recorded poetry.
Info and Booking: