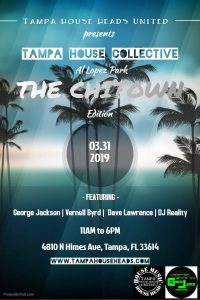 Cyberjamz Radio fully supports this event !
It has begun !! As the weather is getting warmer here in sunny Florida so are the outdoor events featuring The Tampa House Collective at Al Lopez Park in Tampa,Florida Sunday, March 31, 2019 at 11 AM – 6 PM
If you are in the Orlando and surrounding area's we highly encourage you all to come out and experience what Tampa House Heads United is all about. Last year we started to build up what is going to be a great outdoor even in the South featuring deejay's from our hometown to out of state guest music programmers. Tickets are check to fly out for the weekend or if you are in town on vacation or know of someone that lives down our way,let them know……. it's about to go down this summer!!
complete info: https://www.facebook.com/events/374794836429331/
The Team
Its that time of year, where we take it to the park!!! The cold weather is going away and House Music we shall play!!! Come on out and enjoy a full day of house music in the park with Tampa House Heads United. We have special guest s djs, DJ George G-Spot Jackson, and Vernell Byrd coming from Chicago. We also have your Tampa House Heads United crew, DJ Reality, and David Lawrence playing their sets and Freddie Fiyah and DJ Brian B on deck. So bring your lawn chairs, tents, and dancing shoes and be ready to have a great time!!!!
It's A House Thang!!!
The Group Page:
https://www.facebook.com/tampahouseheadsunited/
House Heads, tune in every Weds from 9PM to 11PM for Da House House Spot Sessions with me DJ Freddie Fiyah as I bring you that soulful and classic house feel! Tune in and Turn Up live at www.Cyberjamz.com Channel 2 and join us in the Chatroom!!! See ya There!!