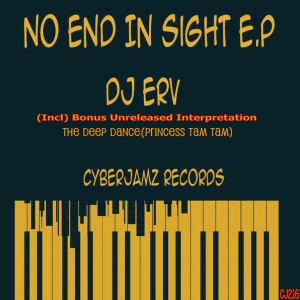 Holy Shit !! Hot E.P Alert !
No End in Sight E.P – Dj ERV (Incl Unreleased Bonus ReMix of The Deep Dance – Princess Tam Tam) (R.I.P).
Ok now whatta we have here? We have a well crafted ,well balanced dance floor package with the main focus being the dancers.
Let's start with the first cut entitled "A Different Path",a beautiful musical ride into oblivion laced with heavenly key board work and thumpin kick and bassline,this one will make ya move-n-groove. Up next we have the organ driven monster cut "Deep Mystery" filled with mystery and suspense ,this one is a banger.The follow up is very good too… "Strings Ride" is a dope cut to kick off a set or just bring it in ,either way,it's a fantastic piece.As if this package needed another cut ,we get "Simple Drum" ,a wonderful musical experience that flows right through you.Closing out this dope E.P is one of my favorite cuts off this E.P (not to take away from the others), but this one moved me in a special way. "The Deep Dance feat. Princess Tam Tam (R.I.P) is a perfect way to send her a message of music and love through our spirit.as her memories live with us forever.
Great E.P coming March 16,,2018 to Cyberjamz Records.