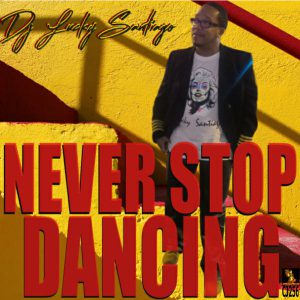 OooOoOooo SHIT!!!! out now Never Stop Dancing
DJ Lucky Santiago
Cyberjamz – https://bit.ly/30sA6K0
We begin 2020 swinging with a baseball bat with back to back hot releases and this one here is without any exception as we welcome deejay/producer Ab Shabazz – Dj Lucky Santiago to all of our labels! Keep your ear to the ground for this Hot Release Alert!
"Never Stop Dancing E.P" – Dj Lucky Santiago – Cyberjamz Records. Target release date Jan 24,2020.
What do we have here? *rubs my hands together 🙂 We have ourselves a hot ass debut EP dedicated to all dancers and dancefloors alike featuring the beautiful original piece entitled "April's Groove", a true soulful house ride into dancers oblivion with luscious organ synths and riffs, a dope bass-line, and percussions to make this one a favorite. We follow along with the slammin' thumpin' rework of "Here Before" (this one gave me deja vu for real and it's right down music programmers alley and TRUST, I predict this one here will be the jam at all upcoming Winter, Spring and Summer events. Last but never least is the banging "I'm Black" … what can I say about this jam? I'll leave that one up to you music programmers and dancers. I only have two words.. "BEAST MODE" !!
All three cuts in this package were worth the wait and now it's about to drop on our label. So keep your ear to the ground.
produced, arranged and jammed up by Dj Lucky Santiago
*All rights reserved.