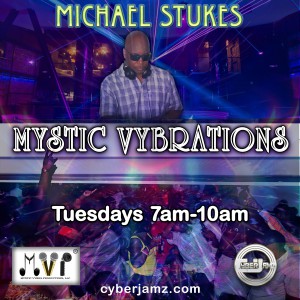 Cyberjamz Internet Radio with Michael Stukes – Mystic Vybrations go down every Turn it up Tuesday from 7am – 10am est Check-in nice and early for your morning house music fix!
MICHAEL STUKES DJ BIO
Michael Stukes a/k/a "Dub master DJ Mike D" is from Harlem USA. Michael got his musical start as DJ for legendary Hip Hop group Tragic Magic.
His searching for beats and "crate digging" led to musical influences in the genres of R&B, Jazz, Rock, Disco, and Soul. In radio, Michael's biggest inspiration was the beloved and legendary Frankie Crocker. DJ's that also motivated and influenced Michael were: Larry Levan, Grandmaster Flash, Ted Currier, Tee Scott, Shep Pettibone, Tony Humphries, and Timmy Regisford.
In the new millennium, a chance meeting with Oscar Poche led Michael to become a reviewer/writer for the following magazine publications: DMA magazine, Mixer Magazine, BPM magazine, Big Shot magazine, and DJ Times magazine. Michael became head DJ at HMV Records on 125th Street in Harlem NYC., from 2000-2003 and also the head DJ at Virgin Megastore – Times Square NYC, from 2003-2009.
While working at HMV Michael met DJ True, host of "Deeper than Disco" at radio station WHCR, 90.3 FM, located at CCNY, NYC. This connection eventually led to Michael's own show, in April of 2006, Mystic Vybes, which currently airs every Thursday from 3am to 6am. Michael has traveled both stateside and abroad for various DJ gigs and events.
His endeavors for the future will include producing music for movies and scores, commercials, current, and future artists as well as engineering for stage, concerts and large venues. Michael's favorite quote is "PPP- (Patience, Persistence, and Perseverance) ALWAYS pays off.