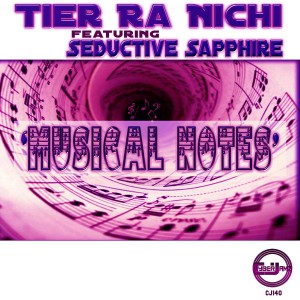 Cat # CJ140
Tier Ra Nichi featuring Seductive Sapphire
Musical Notes
out now
Musical Notes – Tier Ra Nichi feat. Seductive Sapphire
http://bit.ly/1BTc5Jj
Here we have a deep but effective piece produced by Tier Ra Nichi feat. deep  lyrics by Seductive Sapphire.The musical notes will carry you right onto the dance floor while the vocals take you on a journey.
This is really a wonderful package and I'm sure you will find it pleasing to offer it in  your dj sets.
Tracklisting:
1)Tiers Deeper Vox Mix (8:25)
2)Tiers Celestial Vox Mix (8:23)
3)The A to D Vox Mix   (8:27)
Produced,mixed and arranged by Tier Ra Nichi
Lyrics performed by Seductive Sapphire
Artwork: JorgeG Graphix
Tier Ra Nichi is courtesy of Ghost Recordings NYC
purchase here http://bit.ly/VvsovL
Another Coyote Entertainment Joint 2014.