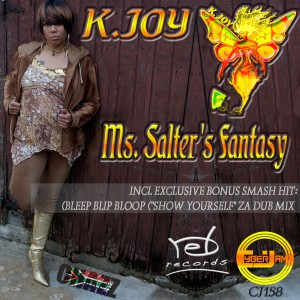 Cat#CJ158
Artist: K.joy
Release: Ms.Salter's Fantasy (Inc. the smash hit "Bleep Blip Bloop") Mixes b Chazz(S.A) & Blacks Backbone & Dj Kemit
Label: Cyberjamz/REB Records
out now – http://bit.ly/1RhtVz0
The Legendary K.Joy returns to Cyberjamz Records with a collection of different music that picks up right where her previous house music hits left off! But there is something different: experience. While these tracks still move the dance floor, there is a sensuality and intention that only comes from the experience of Ms. Salter's life.
BLEEP BLIP BLOOP ("SHOW YOURSELF" ZA DUB MIX) comes from K.Joy's recent collaboration with the artists' collaborative, Black's Backbone and her longtime producer Chazz (from South Africa). Listen carefully to the multi-layered, catchy lyrics that, while seemingly silly, actually have meaning that goes deep and that the K.Joy vocals beautifully enhance!
MENTAL FANTASY (ORIGINAL DJ KEMIT DUB) marries a tribal house vibe with sensual, dreamy vocals that definitely smacks of fantasy. The work of DJ Kemit creates a mix that hits hard, yet still maintains a sexy, smooth groove. It's here that we see the evidence of all Ms. Salter gained from her hiatus in Atlanta.
COOL & DRY CHAZZ REMIX brings back the Chicago house feel reminiscent of the early K.Joy work. This collaboration between K.Joy and Chazz creates a mix that hits hard, yet still maintains a sexy, basement, underground groove. House-heads rejoice…K.Joy is at it again!
UNUSUAL SUSPECTS FEAT. CHAZZ is a track that pays homage to house-heads across the nation and to Chip E's documentary: The Unusual Suspects: Once Upon a Time In House Music, showing maturity as K.Joy enters into another phase of her metamorphosis. This dynamic pairing work together to bring you an unusual track that still manages to find that signature house sound K.Joy is known for.
Info about the remix contest for "Blip Bleep Bloop" – REB Records
The Cyberjamz / REB remix contest is on!! You now have access to all the K.Joy vocal stems for the new single "Bleep Blip Bloop" on the REB Records Remix page. Put together the best that you've got, and submit to the same page by January 1st to be eligible for the REB Remix competition.
Win 1st place, and you get to choose between K.Joy providing vocals on one of your tracks, or a single being produced/mixed by the Theft to the Gallows Production team. The Top Five, including the winner, will have their remixes on an exclusive EP released simultaneously by both Cyberjamz Records & REB Records in the very near future.
Upon approval, all producers will be able to use their remix in their live sets indefinitely regardless of winning or not.
So get to it, and be on the lookout for the next REB Remix Contest and awesome stems!!
STEMS of "Bleep Blip Bloop" – go to the home page and click on the drop-down menu for the BBB Remix
DOWNLOAD THE STEMS right from this page – – http://rebrec.com/bleep-blip-bloop-re-mix
** upload your submissions back to the same page
REB Records – – www.rebrec.com and info@rebrec.com
K.joy on Facebook – https://www.facebook.com/k.joysalter
Cyberjamz/Toupee Recs – sammyrock@mail.com
**Exclusive House Dub Remix of "BLEEP BLIP BLOOP ("SHOW YOURSELF" ZA DUB MIX) FEAT. CHAZZ & BLACK'S BACKBONE" – BACKYARD STUDIO will be offered in the upcoming K.joy release "Ms.Salters Fantasy" Album – Cyberjamz/REB Records. Avail at http://traxsource.com and http://junodownload.com middle of December 2015.
Release Tracklisting & Credits:
1)BLEEP BLIP BLOOP ("SHOW YOURSELF" ZA DUB MIX) FEAT. CHAZZ & BLACK'S BACKBONE – (John Patrick Sullivan, Ryan E. Black, Nia S. Adero, Charles W. Hamilton)PRODUCED BY CHAZZ & K.JOY / RECORDED/MIXED AT REB RECORDS STUDIO / RECORDED/MIXED AT BACKYARD STUDIOS / MASTERED BY MASTERSONIXX MASTERING / NIA S. ADERO BMI / CHARLES W. HAMILTON SAMRO / LYRICS TO MUSIC PUBLISHING ASCAP / COYOTE ENT ASCAP / EXECUTIVE PRODUCER: REB RECORDS
2)MENTAL FANTASY (ORIGINAL DJ KEMIT DUB) – (Nia S. Adero, K.Hyman) PRODUCED BY K.JOY & DJ KEMIT/ RECORDED AT KOOL KAT RECORDING STUDIO / MIXED BY DJ KEMIT FOR KEMITICJUST PRODUCTIONS / MASTERED BY RODNEY MILLS MASTERHOUSE / NIA S. ADERO BMI / KEMIT MUZIK BMI / EXECUTIVE PRODUCER: KIMBERLY J. SALTER FOR KJOYMUSIC, LLC
3)UNUSUAL SUSPECTS – (Nia S. Adero, Charles W. Hamilton) PRODUCED BY CHAZZ & K.JOY / RECORDED/MIXED AT BACKYARD STUDIOS / MASTERED BY RODNEY MILLS MASTERHOUSE / NIA S. ADERO BMI / CHARLES W. HAMILTON SAMRO / COYOTE ENT ASCAP / EXECUTIVE PRODUCER: KIMBERLY J. SALTER FOR KJOYMUSIC, LLC
4)COOL & DRY CHAZZ REMIX – (Nia S. Adero, Charles W. Hamilton) PRODUCED BY CHAZZ & K.JOY / RECORDED/MIXED AT BACKYARD STUDIOS / MASTERED BY RODNEY MILLS MASTERHOUSE / NIA S. ADERO BMI / CHARLES W. HAMILTON SAMRO / COYOTE ENT ASCAP / EXECUTIVE PRODUCER: KIMBERLY J. SALTER FOR KJOYMUSIC, LLC.Bounus Track: Bleep Blip Bloop – Origina Mix***JUNO/CJ CREDITS ONLY (FOR THE FREE BONUS ORIGINAL OF BLEEP
50BLIP BLOOP):BLEEP BLIP BLOOP (ORIGINAL BLACK'S BACKBONE MIX) – (John Patrick Sullivan, Ryan E. Black, Nia S. Adero)PRODUCED BY RYAN E. BLACK, SULLY & NIA S. ADERO / RECORDED/MIXED AT REB RECORDS STUDIO / MASTERED BY MASTERSONIXX MASTERING / NIA S. ADERO BMI / LYRICS TO MUSIC PUBLISHING ASCAP / EXECUTIVE PRODUCER: REB RECORDS
Cover Art: Jorge Graphix
If you missed the interview with K.Joy & SammyRock check out the Podcast.
http://bit.ly/1Mvslt7
Nia S. Adero, MS, CMT
773.905.5691
LinkedIn – http://bit.ly/1H0jNYV
Resume & Bio – http://bit.ly/1Y97tKa
Audio Production Portfolio – http://bit.ly/1LdIbBo
Electronic Press Kit – http://bit.ly/1PrxL96
• • • • • • • • • • • • • • • • • • • • • • • • • •
Audio Engineer/Instructor
Elementary/Middle School Educator
Recording Artist/Songwriter
Entertainment Business Specialist
Massage/Spa Therapist/Reflexologist
"Watch your thoughts for they become words.
Watch your words for they become actions.
Watch your actions for they become habits.
Watch your habits for they become your character.
Watch your character for it becomes your destiny."
— Unknown Author