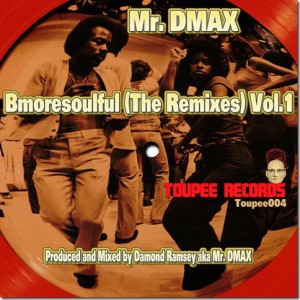 Back by popular demand is the Bmoresoulful (The Remixes) Vol.1 by Damond Ramsey aka Mr.DMAX with 2 exclusive unreleased pieces not offered the first time around.
out now !
http://www.traxsource.com/title/274909/bmoresoulful-the-remixes-vol-1
About Damond Ramsey – Mr.DMAX
Dj Damond Ramsey, born in Baltimore, Md., has been a mobile and club dj since the early 80′s. He has been influenced by legendary djs such as Thommy Davis, Wayne Davis,Teddy Douglas, Dj Spen and Kenneth Johnston just to name a few. Damond now works with Quantize Recordings under the mentoring of Dj Spen and Thommy Davis. Damond also has releases on Nervous Records, Code Red, Africanism and now Cyberjamz Recordings. You can hear Damond every saturday 3-5pm on handzonradio.fm. "I do this for the love." Damond has started a party titled "The Art of House" which incorporates the diversity of the house music seen. Damond has partnered with friend Sahib Mahumed to work on future projects. You can find more information on Damond's facebook page- djdamondramsey.
artist contact and info
https://www.facebook.com/DjDamondRamsey
Label info