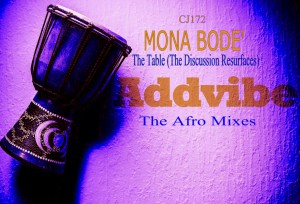 Cat#CJ172
Title: The Table – (Addvibe Afro-Mixes) – (The Discussion Resurfaces)
Artist: Mona Bode'
Label: Cyberjamz Records
OUT NOW – http://bit.ly/2blOBGV
Mona Bode The table (Addvibe Afro Remixes) – (The Discussion Resurfaces)
In April we introduced you to the masterly crafted The table, now this soulful gem oozing with Mona Bodes one of a kind spoken word poetry returns in brand new remixes by Addvibe who serves not less than four truly dazzling and diversified re-imaginations ranging from old skool soulful house over contemporary soulful house to afro deep , with a glamorous down-tempo version being the cherry on the cake.
This is a complete package.
Reviewed by Michael Fossati of spiritofhouse.com
TrackList:
1)Addvibe Soul Connected Remix (6:55)
2)Addvibe's Back2Basic Remix (6:21)
3)Addvibe deepFro Mix 6:32)
4)Addvibe Slomoo Remix (6:27)
All Lyrics performed by Mona Bode for ManMachine Productions LLC.
Afro mixes produced.arranged and mixed by by ADDVIBE
cover by SammyRock
Mastered by Hippie Torrales
Another SoulCat Joint 2016
Keep your Ear to the Ground Cyberjamz/Toupee Records 2016.
licencing and booking contact:
infomonabode@yahoo.com
label contact
sammyrock@tmail.com
pick up part one mixes
The Table (Part One) Mona Bode' feat.Kasim Allah (The Main Discussion Mixes)
Mixes by MI Sounds,Tayo Wink,DjjoelS & Dj Buzzard here http://bit.ly/1TaAQNC