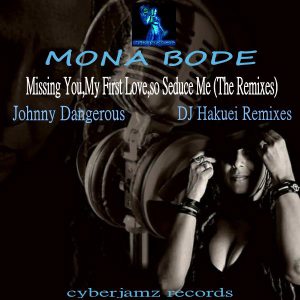 Hot Release Alert: Mona Bode – Missing You, My First Love, So Seduce Me – Johnny Dangerous & DJ Hakuei Remixes. Target release date Friday, May 15,2020 – Cyberjamz
OUT NOW Missing You/My First Love/So Seduce Me (The Remixes) https://bit.ly/2X5rYxX
Mona Bode returns armed with a set of fantastic remixes of her classic "My First Love" of which Japan's own DJ Hakuei came correct with a proper remix. Hakuei also delivers a hot remix of Mona's "Seduce Me" piece in a sensual soulful house way. Also included in this beautiful package is an original mix by Johnny Dangerous entitled " Missing You" This one is def a favorite for me as well as Dj Hakuei Remixes. So keep your ear to the ground for this one!
written and performed by Mona Bode for ManManchine Productions LLC.
Mona Bode "Missing you" / "My first love" / "So seduce me" (Remixes)(CyberJamz Records Promo)
Coming soon to CyberJamz Records is this undoubtedly amazing release by Mona Bode featuring the brand new track "Missing you" in the beautiful original Johnny Dangerous version which combines Mona Bode's unrivaled poetic spoken word artistry with mellifluous dreamful melodies and a smooth organic musical backing, as well as grandiose jazz/funk infused DJ Hakuei interpretations of her previously released tracks "My first love" (originally released in 2010) and "Seduced me" (originally released in 2012).
Reviewed by Mike Fossati of Spirit of House
https://www.spiritofhouse.com/reviews/music-reviews/review100520.html
Track A Missing you is produced mixed and arranged by Johnny Dangerous.
Track B and C My first Love & Seduce Me is produced, remixed and re-arranged by DJ Hakuei in Japan
Copywrite ManMachine Productions LLC.
cover by Mona Bode
mastered at Zona Soul Studios Fajardo PR
tayowink@gmail.com
A&R SoulCat Keep your ear to the Ground Cyberjamz Records 2020.