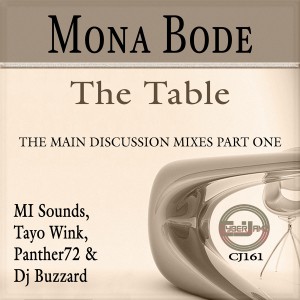 Cat # CJ163
Title: The Table (Main Discussion Mixes) Part One
Artist: Mona Bode
Remixes: MI Sounds, Tayo Wink, Panther72 & Dj Buzzard
Label: Cyberjamz
Target Release Date: May 2016.
Mona Bode "The table" (Part One – The Main Discussion Mixes)(CyberJamz Records CD Promo)
Cyberjamz and Toupee Recs been busy this week !!
here is yet another nice review of the upcoming The Table – Mona Bode coming very very soon !!
There ain't no stoppin' for CyberJamz Records as we not only get the stunning releases by Doc'N'Tones and Harold Brandon but also this masterly crafted soulful gem performed in grand style by the incomparable Mona Bode. "The table" is all all about Mona Bode's one-of-a-kind spoken word poetry perfectly put into the spotlight by MI Sounds, Tayo Wink, Panther 72 and DJ Buzzard all adding their distinctive deep/soulful touch, giving you plenty of choices to cause a stir on the dance floor.
Reviewed by Mike Fossati of Spirt of House
http://spiritofhouse.com
Tracklisting
1)M I Sounds Up In Harlem Version(6:24)
2)MI Sounds up in Harlem Dub Version (6:40)
3)Tayo Wink Afrosensual Mix) (7:40)
4)Panther72 Edd-it – Back to Basics (6:36)
5)DjBuzzard ReThought (6:36)
6)Mona Bode feat Kasim Allah (Original Downtempo Funk Mix) (4:47)
Artwork by JorgeG Graphix and Design
jorgegee@gmai.com
Artist booking and info contact monabode125@yahoo.com
Facebook https://www.facebook.com/mona.bode
Label contact
sammyrock@mail.com
Cyberjamz Records on FB https://www.facebook.com/groups/cyberjamzrecords/
Twitter https://twitter.com/souloasis1
A&R SammyRock for Coyote Entertainment 2016