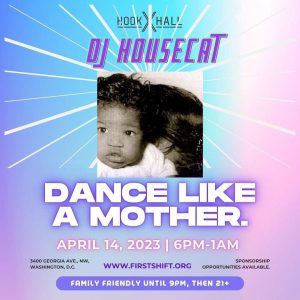 Meet the DJs of Dance Like A Mother.
DJ Housecat(La Gata de Fuego) photographed here being hugged by her mother Lorna Harris), hails from Flint, MI, and long a time resident of the DC/MD area.
She is a DJ, music producer, promoter, and radio personality, who has been active in the music industry for over 15 years, and is known for her eclectic taste in music, which ranges from house music to soul, funk, jazz, and world music. DJ Housecat spread her love for music at many venues, festivals, and special events throughout the DC, MD, NY, and NJ areas. As a music producer, DJ Housecat has released several original tracks and remixes.
DJ Housecat is also a vocal advocate for women and minorities in the music industry and has organized several events and initiatives to support and promote diversity and inclusivity in the industry.
Radio shows:
TheSoulCat Show w/co host Sammy Rock, Cyberjamz.com
Mondays 9 am-2 pm
Meeting in the Ladies Room 10 pm-12 am, 3rd Fridays, WPFW 89.3FM
House on the Waterfront Weekender 8/11/23-8/13/23
Come Dance Like A Mother. 4/14 6 pm-1 am | Hook Hall | Family friendly until 9 pm then 21+ | Free, donations welcome.
DJ Housecat
Mykrodaat
DJ A.Plane
DJ TMF
DJ Soul
RikiRain
RellyBelly
So grateful to all of our sponsors, DJs, and volunteers. Thank you for helping this incredible organization change women's lives and fight for civil rights!