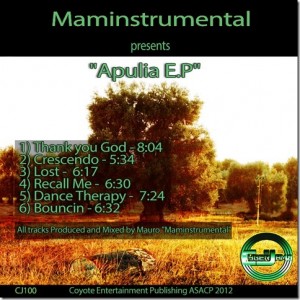 Maminstrumental – Italy is BACK with this BANGING E.P filled of Love,life and Hope.. coming soon to Cyberjamz Records !!
100th Release Celebration for the label.
Out now !
http://www.traxsource.com/index.php?act=show&fc=tpage&cr=titles&cv=183581
Maminstrumental presents "Apulia EP" (CyberJamz Records CD Promo)

First things first – congratulations to CyberJamz and label head Sammy Rock for their 100th release. And what better way to celebrate than with this incredible release by Italy's Maminstrumental who graces us with the "Apulia EP" which showcases his different sides and many talents, with each of the six included tracks bringing you his beloved deep and remorseless yet soulful sound, with infectious backings leading the way for lush keys and chords.
Mike Fossati
Produced by Mauro "Maminstrumental"
SIAE (Italy)
co-produced by Soul-Cat
Photo Cover Chiara Gabriele
A&R Soul-Cat for Coyote Entertainment Publishing ASCAP 2012.