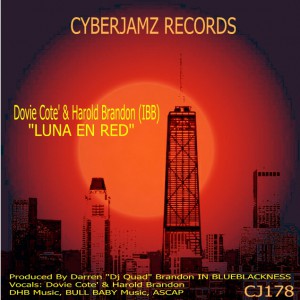 Cat# CJ178
Artist: Dovie Cote' & Harold Brandon (IBB)
Title: Luna en Red
Label: Cyberjamz Records
Target Release Date November 11,2016.
All I can say about this beautiful vocal piece performed by our very own Dovie Cotae & background vocals by Harold Brandon Dee of In BlueBlacness is where is at ! Quality lyrics and vocals with gorgeous production and music will give you goosebumps. I predict this is going to be a great release for this talent artist and label.
As with all great songwriters ,there is a story behind every experince and so here is the one for "Luna En Red" as told by Dovie Cotae ' & Harold Brandon.
Dovie and I were pulling up to the studio one evening, getting out the car, we saw a big red moon in the blue sky to the east, as we were walking inside, I came up with the idea to create a track for this moon with the blue sky backdrop, Dovie initially calling it The Cherry Moon, or something like that, and I came up with "Luna En Red" as the official title, and it stuck and so we hope you all enjoy this wonderful release.
Release tracks:
1) Quad IBB's Amped-Traction Mix)
2) Original Mix
All lyrics performed and written by Dovie Cote' & Harold Brandon
produced by Harold Brandon (IN BLUEBLACKNESS)
"Luna En Red"
Produced By Darren "Dj Quad" Brandon IN BLUEBLACKNESS
Vocals: Dovie Cote' & Harold Brandon
DHB Music, BULL BABY Music, ASCAP
Cover – Doive Cote' & SammyRock
licencing and info:
sammyrock@mail.com
Another Cyberjamz Records Joint 2016