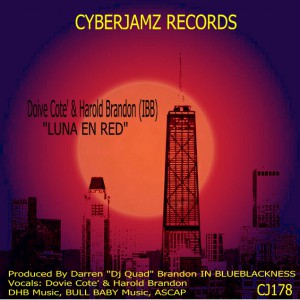 Cat # CJ178
Tite: Luna en Red
Artist: Dovie Cote' & Harold Brandon (IN BLUEBLACKNESS)
Label: Cyberjamz Recs
out now – Luna En Red – http://bit.ly/2gmVL22
Dovie Cote' & Harold Brandon (IBB) "Luna en red" (CyberJamz Records CD Promo)
Coming soon to CyberJamz Records is the breathtaking "Luna en red" produced by Darren 'DJ Quad' Brandon (InBlueBlackness) and performed in grand style by Dovie Cote' and Harold Brandon. Undeniably, "Luna en red" is a phantasmagorical amalgamation of dulcet yet irresistibly thumpin' deep rhythms with exquisite jazzy keys, heavenly chords and the beautiful haunting vocals of Dovie Cote' and Harold Brandon that is guaranteed to send shivers down your spine… The 'Quad IBB Amped-Traction Mix' gives the track a more straight 4/4 feel that is truly mesmerizing yet soulful and melodious.
Review by Mike Fossati of Spirit of House.
http://spiritofhouse.com
Track Listing.
1)Luna en Red – Original Mix (9:40)
2)Luna En Red – Dovie Cote' Harold Brandon IBB (8:50)
"Luna En Red"
Produced By Darren "Dj Quad" Brandon IN BLUEBLACKNESS
Vocals: Dovie Cote' & Harold Brandon
DHB Music, BULL BABY Music, ASCAP
Mastered by Glenn Underground
Cover IBB & SammyRock
Licencing and artist info contact label A&R SammyRock
sammyrock@mail.com
Cover IBB & SammyRock
Another Cyberjamz Records Joint 2016