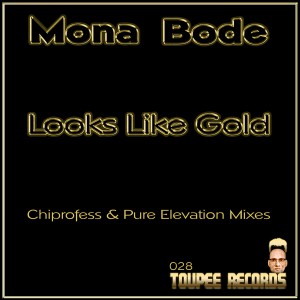 Cat# Toupee028
Release: Looks like Gold
Artist: Mona Bode with Mixes by ChiProfess & Pure Elevation
Label:Toupee
Target Release Date: November 09,2015.
As heard in House In The Park in Hotlanta this past summer,this gorgeous release finally  gets it's shine on !
Mona Bode "Looks like gold" (Toupee Records Promo)
Not much needs to be said or written about this top-notch soulful house production performed in grand style by Mona Bode and expertly produced by ChiProfess whose 'Soul Synergy' mixes are nothing short of stunning, with a compelling organic backdrop serving as playground for warm melodious keys, lush chords, lovely flute and Mona Bode's one-of-a-kind spoken word poetry. Nuff said…Added to this package are the dance floor stomping remixes by Pure Elevation  which are nothing short of BANGIN !  Put on your dancing shoes and let this groove take you there !
Review by Mike Fossati of Spirit of House
Tracklist:
1)ChiProfess Soul Synergy Vocal Mix (6:38)
2)ChiProfess Soul Synergy Instrumental(6:38)
3)Pure Elevation R&B Rhythm Groove Mix (5:53)
4)Pure Elevation  2 am Remix (5:45)
All lyrics written and performed by Mona Bode *ManMachine Music Production LLC) ASCAP 2015.
Credits: Produced by Steve ChiProfess Patterson(Soul Synergy Music)
Vocals: Mona Bode
Keyboard: Steve ChiProfess Patterson & Ricky Corey Flute: Harold HT Zero Turner
For license email sammyrock@mail.com
Cover by JorgeG Graphix
Label A&R:
Catherine Harris aka  Dj Housecat (la gata de fuego)
Facebook – http://on.fb.me/1GGqoHG
Another La Gata de fuego Joint – Toupee Records 2015.