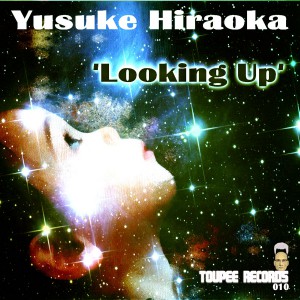 Cat# Toupee 010
Looking up E.P – Yusuke Hiraoka
Target Release Date – April 2014
Toupee Records is proud and welcomes Yusuke Hiraoka to our label.If you have heard any of this gifted producers music before you know that this package delivers without exception.All the pieces are just tasty,sensual and are made for those that truly enjoy a musical journey while dancing.
So close your eyes and absorb this wonderful E.P !
From Japan's Yusuke Hiraoka comes the luscious "Looking Up EP" which features four wonderfully crafted deep house tracks, each one oozing with deep'n'gentle yet thrilling rhythms and ethereal truly phantasmagorial melodies. Quite simply perfect for late night, early morning play…( Toupee Records CD Promo).
Review by Mike Fossati of Spirit of House
Tracklisting:
1) 11PM – Version 2 –  (4:54)
2)Star (6:15)
3)The Moon (7:45)
4)In the Morning (7:29)
All tracks produced by Yusuke Hiraoka
Artwork: Jorge G Graphix
Licencing,bookings and info contact:
https://www.facebook.com/DJMr.ysk
email:
Label info:
Pick up his other fine releases at