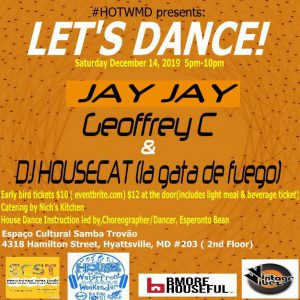 HOT EVENT ALERT at the DMV (DC/MARYLAND/VIRGINIA) and surrounding area.
We have ourselves a JAM! and it all goes down clock
Saturday, December 14, 2019 at 5 PM – 10 PM EST (What's great about this event is that you will still have time to attend another party afterwards,IF our deejay's don;t give you a beat down first) 🙂 So put down your weekend chores and Lets Dance! Jammin on the dex is Jay Jay (Jay Jay Tate) , Geoffrey Cee and Catherine Harris Rowell DJ Housecat( La Gata de Fuego).
Early bird tickets $10 through eventbrite.com, $12 at the door (admission includes a light meal and drink ticket) – Catering will be provided by Nich's Kitchen
Exclusive! Bmorehouseful's Choreographer, Dancer/Instructor, Esperonto Bean will be in the place to share some dance moves with us. Don't miss an opportunity to step up your footwork!
Espaço Cultural Samba Trovão ( located next to Polka Dot Park)
4318 Hamilton Street, Hyattsville, MD #203 ( 2nd Floor)
Free Parking.
Stay connected at https://www.facebook.com/events/438795263676490/