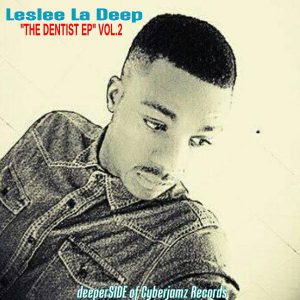 Deep House Release Alert !
Leslee La Deep – The Dentist Vol #2 – Lesley Mthethwa Target release date September 20,2019
I hear all the time how we supposed to support and encourage the younger generation of deejay's and producers and how to inspire them to continue our work for the future. I'm hoping we doing that at deeperSIDE of Cyberjamz Headquarterz as we once again we are featuring this youngin from S.A on our label.
The Dentist Vol#2 is a collection of inspirational deep house pieces that offer deep roots of this producer and where he is coming from…and so I encourage those that preach about supporting up and coming producers to see. Leslee La Deep as one of those diamonds in the ruff. This young man has what it takes and I will support his work as long as he continues on this path. All the tracks offered on this EP are special and each has a certain spiritual feel to them as demonstrated in Vol #1 out now at Traxsource – https://bit.ly/2XLvAnU or at Junodownload – https://bit.ly/2WJYZxw
Keep your ear to the Ground – deeperSIDE of Cyberjamz