Hot Release Alert
Just Deep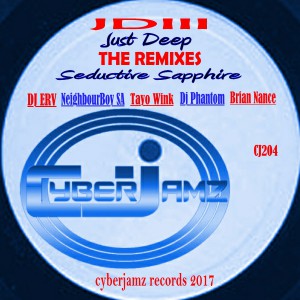 – Cyberjamz Records.
Sheila Johnson (Seductive Sapphire) returns with one bangin ass Just Deep unreleased remix package featuring our All-Star producer team consisting of Erving Batista (Dj ERV) who comes correct by adding a different flavor to this already dope track.Next up is NeighboySA of South Africa who goes deep afro tech on dat ass and Tayo Wink blesses us with a lovely "Afro-Love Instrumental Mix
You thought that would be enough..but NO !! Walter Phant Ellison (Dj Phantom) adds a fantastic techy mix without loosing it's soul while delivering his own dope interpretation and SoulCat (SammyRock & Catherine Harris Rowell (Dj Housecat(la gata de fuego) comes correct wth a nice edit mix of our own.Finally deep house extraordinaire Brian Nance closes out with a banging remix which makes this package complete and "JUST DEEP" !
coming end of Oct 2017 – Cyberjamz Records.
pick up parts One & Two out now Toupee Records.