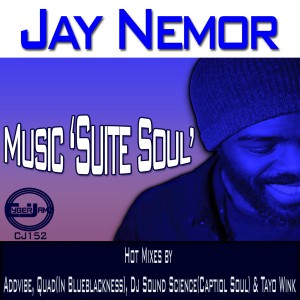 The wait is almost over !
Music"Soul Suite"
Jay Nemor (Mixes by Addvibe, Capital Soul &Quad (INBLUEBLACKNESS)
get it here –  http://bit.ly/1DGYuK8
Cyberjamz Records is proud to release this beautiful vocal piece by Jay Nemor. Music "Suite Soul" is exactly what the House Music Doctor ordered for dancers and dance floor.Deep mixes by Addvibe , Soundscience aka Capital  Soul and an exceptional remix by Quad (INBLUEBLACKNESS) – Brandon Dee (Chicago).
This is one of many favorite releases this year.
Jay Nemor "Music (suite soul)" (CyberJamz Records CD Promo)

End of May, we introduced you to "Music (suite soul)" by Jay Nemor (Jason Nemor Harden), now CyberJamz Records graced us with new mixes of this wonderful production, so here is our updated review of this jewel… JayNemor's "Music" is a phenomenal deep soulful production guaranteed to send shivers down your spine through the mellow funk drenched backing, grandiose saxophone, illustrious keys, lovely guitar and most importantly the stunning heartfelt vocals. On remix duty areDJ Sound Science (Capitol Soul), Addvibe and DJ Quad (Brandon Dee) all adding their distinctive soul/afro/deep infused touch to give the song a more dance floor friendly appeal, making it next to impossible to pick a favorite version… Pure class.
Reveiw by Mike Fossati of Spirit of House
http://www.spiritofhouse.com/reviews/music-reviews/review260715.html
Tracklist:
1) Addvibe – Back2Basics Remix (7:40)
2) Addvibe DeepAfro Remix (8:37)
3)Capital  Soul Afro Lounge Edit (7:56)
4) Quad's "IN BLUEBLACKNESS Sift-n-Crunch" Mix    (8:00)
5) Original Mix (7:33)
produced by Jay Nemor & Addbive
All lyrics written and performed by Jay Nemor
copyright:  Nordic Copyright Bureau (NCB)
Tracks 1 & 2  produced,mixed and arranged by Addvibe
Track 3 produced,mixed and arranged by Tim Wayne (Sound Science)
Track 4  produced,mixed and arranged by Brandon Dee (INBLUEBLACKNESS)
Track 5 performed,produced,mixed and arranged by Jay Nemor
Cover by JorgeG for JorgeG Graphix (2015)
contact:
jorgegee@gmail.com
artist contact:
Jason Nemor Harden
+47 9080 3099
+46 706 372 624
Dj Addvibe
Tim Wayne (Sound Science) – Capital l Soul
Brandon Dee (INBLUEBLACKNESS)
Licencing , Bookings and info contact:
A & R Sammy Rock
Cyberjamz Records
Toupee Records
Cyberjamz Records A&R SammyRock for Coyote Entertainment 2015