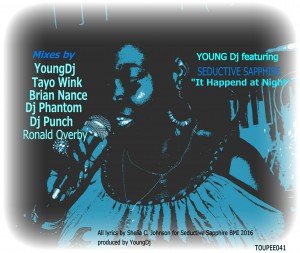 Cat#Toupee041
Release; It's Happened at Night
Artist: YoungDj featuring Seductive Sapphire
Remixes by Tayo Wink,Dj Phantom,Dj Punch,Brian Nance & Ronald Overby
Target Release Date September 23,2016
Jam this out now !
It Happened At Night – YoungDJ feat. Seductive Sapphire (Mixes by YoungDj,Tayo Wink,Ghostie,Dj Phantom,Brian Nance,Ronald Overby & Dj Punch) – http://bit.ly/2cRkewB
Big thanks to Mike Fossati for the review.
Young DJ featuring Seductive Sapphire "It happened at night" (Toupee Records CD Promo)
Coming soon to Toupee Records is the fabulous "It happened at night" by South Africa's Young DJ which features the one-of-a-kind spoken world poetry by Seductive Sapphire guaranteed to seduce you alongside celestial melodies and gentle yet thrilling afro-percussive rhythms. Not to forget to mention the splendiferous selection of truly eclectic and mind-blowing remixes by Tayo Wink, DJ Phantom (Ghostie), DJ Punch, Brian Nance and Ronald Overby
An essential package not to be missed.
Reviewed by Mike Michael Fossati of spiritofhouse.com
Seductive Sapphire returns with a lovely spoken-word piece with fantastic remixes by YoungDj, Tayo Wink, Dj Phantom(Ghostie), Dj Punch, Brian Nance & Ronald Overby. All of these producers mentioned rocked the mixes of this track. Kicking off with YoungDj himself out of South Africa delivers a soulful melody combined with a lil afro-soul to make this mix tasty! up next we have the hot Tayo Wink.His mix is absolutely fabulous,with mesmerizing keyboard work and added deep elements that makes this one a quick fav while Brian Nance delivers a deep tech monster remix for those dark nights at the clubs. Dj Phantom (Ghostie) comes correct with this deep,soulful ,afro piece that reminds us why we love this music so much. Brother Dj Punch comes correct with a signature Baby Powder Classic Mix made for all dance and Ronald Overby takes the cake with his Chicago flava ,thumping vibe entitled "The Punisher Vocal Mix". This mix is also a fav of mine off this package and not to take away from all the other mixes in this package cause there is truly something for every kind of deejay !
Seductive Sapphire
MY SONG "IT HAPPENED AT NIGHT" IS ABOUT A WOMEN THAT FELL IN LOVE WITH A COMPUTER PROGRAM WHICH HAPPENS TO BE A FACSIMILE OF A PERFECT MAN ACCORDING TO HER! I CAME UP WITH THIS IDEA BY WATCHING THE STEPFORD WIVES, BUT THINKING OF WHAT WOULD HAPPEN IF SOMEONE THOUGHT THEY COULD MAKE THE PERFECT MAN.
Tracklisting
1)YoungDj Original Mix (6:46)
2)Tayo Wink Afrosensual Mix (7:25)
3)Gostie's Mix (5:56)
4)Your Access is Not Denied (DJ Phantom Remix) (5:57)
5)Ronald Overby Punisher Vocal Mix (7:59)
6)Brian Nance (Lay It Down Mix) (7:09)
7)Dj Punch Baby Powder Classic Mix(9:01)
all lyrics performed by Shelia C. Johnson for Seductive Sapphire BMI 2016
produced by YoungDj
*additional production by Tayo Wink. Dj Phantom,Brian Nance,Ronald Overby & Dj Punch.
cover – SammyRock for Coyote Entertainment 2016.
Licencing and bookings contact
Label A&R Catherine Harris contacthousecat@gmail.com
SammyRock at sammyrock@mail.com
Keep yo ear to the ground – Cyberjamnz/Toupee Records 2016.