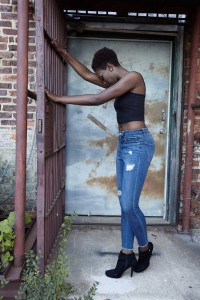 Hot Release Alert : GO ! MISEDUKATED (Sal Negro Remix) (Part One).
We are proud to Introduce to you our latest true recording artist Misedukayted and her upcoming smash release GO !
SammyRock aka Soul Oasis and Catherine Harris Rowell of Cyberjamz / Toupee & deeperSIDE of Cyberjamz welcome this unique and explosive recording artist Misedukayted,This fantastic woman performed for us during our #HOTWMD House on the Waterfront Weekender last year opening night and she totally ripped the floor with her delivery and even managed to make a few of our guest studio audience to participate in a way we have never seen.Also when she performed her mega-hit "GO" ,several folks broke down and cried,because of the powerful lyrics and touched upon a serious situation that we can all relate to,especially when you are in a abusive relationship.She had us all sing out loud. "I got to GO GO GO!
**Coming soon to Cyberjamz/Toupee Records with Part One Remix by Sal Negro who brings the house down with his Afro Cuban Experience Remixes and coming soon after will be hot dance floor re-mixes by Glenn Gregory , Håvard Kvangarsnes (hWah) & the talented Derrick DLow Singfield .Also included in this package is the Original break through ,cross over Mix for those funky down tempo music lovers s out there… this is an amazing package and artist,so keep your ear to the ground !
bio:
A Pensacola, FL native, the artist Misedukayted, formerly Kay Renae, brings a fresh perspective to r&b. Drawing influence from artists such as Lauryn Hill, H.E.R., Natalie Cole, Jazmine Sullivan, and Stevie Wonder, she strives to combine the old with the new always remembering where she came from and the music that got her started. As an artist, Misedukayted strives to be more than just a singer, but a writer with a message and a positive influence. She currently has 3 studio albums and 4 EPs – half of those under her previous name, Kay Renae, and is working on Eighteen Vol. 2 to be released in the spring.
Misedukayted