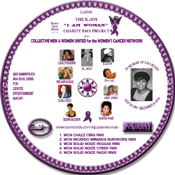 Cyberjamz Records and K.joy feat.Various Artist in this collective men & women for WCN100% proceed of sales will go towards the WCN (Women's Cancer Network).This is unique time to make a differance and save someone's life!! We are counting on YOU! The lovers of music to participate in this joint effort.
out now !
http://www.traxsource.com/index.php?act=show&fc=tpage&cr=titles&cv=37173&page=5
*For complete donation info,artist participation and all FAQ please go to this site.
http://www.sonicbids.com/epk/epk.aspx?epk_id=211687
*
FROM THE FAMILIES OF K.JOY, LISA BYERS, THE DESIGNATED FEMALE HONOREES, CYBERJAMZ RECORDS, PURE INNERGY RECORDINGS, LLC AND THE WOMEN'S CANCER NETWORK OF THE GYNECOLOGIC CANCER FOUNDATION:
WE WOULD LIKE TO DEEPLY AND SINCERELY THANK EACH AND EVERY LAST PERSON FOR THEIR CONTRIBUTION, TIME, TALENT, COMMITTMENT, DEDICATION, PARTICIPATION, PROMOTION EFFORTS, SUPPORT & DONATIONS TO THIS PERMANENTLY ONGOING CHARITY PROJECT!
YOU ARE APPRECIATED, CHERISHED AND LOVED!!
IMPORTANT LINKS/EMAILS:
FOR BOOKING: bookingkjoy@gmail.com
TO ADD WOMEN'S NAMES TO THE DESIGNATED HONOREE LIST: kjoy.iamwoman@gmail.com 
COMPLETE INFO ON THE PROJECT: http://www.sonicbids.com/kjoyiamwoman
TO DONATE NOW: http://www.wcn.org/about/donate.html
FOUNDATION THAT ASSISTS CANCER PATIENTS: http://www.patientadvocate.org/
All lyrics and music protected by Pure Ironsalt Publishing LLC (BMI)
A&R SammyRock
Cyberjamz Records-Coyote Entertainment (ASCAP)