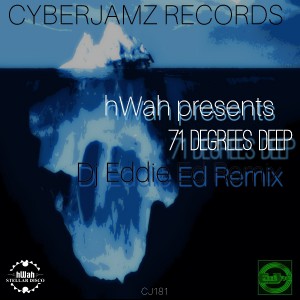 Cat #CJ181
Title: 71 Degrees of Deep
Artist: hWah (Dj Eddie-Ed Remix)
Label: Cyberjamz Recs.
Release Date Friday Dec 09,2016
71 Degrees Deep is the debut EP of Norwegian producer hWah who is based in Oslo. hWah has previously released an edits EP on Giant Cuts, and got several remixes on Cyberjamz Records and Vier Deep Digital. His latest remixes are of Vanessa L Smith's 'Naked Soul', Harold Brandon's 'She Says' and Jay Nemor's 'Everyday'. just to name a few.
So why call it a debut EP? Because this is first EP of original productions from hWah. 71 Degrees Deep are inspired by so many things, but most of all the dream of warmer climates, jazzy melodies and outer space mysteries. The 4 track EP pays its homage to the US sound of deep house and afro house.
hWah is currently working on a new project with Vanessa L Smith, and several other projects to be released in 2017 on Cyberjamz Records and other reknown labels. 2017 will also see the launch of Stellar Disco Records.
The one remix in the package is a real club banger! Dj Eddie-Ed has knocked out a killer version which takes it deeper into the afro side of things. It will get the floor marching effortlessly during peaktime for sure.
Current reviews:
Excellent E.P I totally Love "Hot Mars","Cold Earth" , Sweet !
Reviewed by Martin Atjazz.
Nice quality stuff! Will be playing some of these for sure.
Reviewed by Opolopo – 7/10
Real nice grooves.
Reviewed by Hippie Torrales – 8/10
Nice pack!
Reviewed by Carlo Francisco – 8/10
Hot EP. I especially love Dreaming of Equator (DJ Eddie-Ed's Tropical Grooves Mix. He brought out the great keyboard work of the original mix to the forefront. Hot Mars Cold Earth is a cool Afro Deep journey!!! A Late Night jam!! "
Reviewed Hakeem Syrbram – 8/10
Dope!
Nick Holder – 8/10
Lovely package. Dreamin is my favourite
LUKA – 7/10
71 Degrees Of Jazz – original mix is a master piece ! great music !
Da Vince – 7/10
very good package! i like specially Dreamin Of Equator and 71 Degrees of Jazz!
Kiko Navarro – 8/10
At the crossroad between Afro, Deep and Jazz/House. Cool bean from Norwegian studio sorcerer hWah… (Indamixworldwide.live)
Frederic MFSB Messent – 8/10
Great tracks
Robert Owens – 8/10
Loving Dreamin of Equator! Quality!
Lay-Far – 7/10
Dreaming Of Equator sounds real nice…congrats Håvard Mats
Mad Mats – 8/10
Dreaming is the one for me, both mixes! Nice
Rainer Truby – 9/10
Hwah bringing the heat, Solid Ep
Ray Coker – 9/10
Tropical house and disco vibes set to keep your mind off the cold weather.
Robin Lee / Faze Action – 7/10
Great stuff, really like them all. A complete package for a good night out.
De Fantastiske To / Marius Sommerfeldt – 9/10
Strong release! Really digging Dreamin Of Equator and Hot Mars Cold Earth
De Fantastiske To / Raveenka – 9/10
Superb EP!
Pete Herbert – 10/10
Great pack indeed!! Thanks for this… #OhYea
DJ Thes-Man – 7/10
Well done, congratulations! Beautiful tracks. Hot Mars Cold Earth is the one I enjoy the most.
B.G. Baarregaard – 9/10
Loveley – hWah! Thank you very much. Jarle B – Ytre Rymden
Jarle Braathen – 9/10
Great production, all of the tracks are well playable. Full of wonderful music and fresh beats. Beautiful release from the very first note. Quality….Absolutely! LOVE, SOUL & All that Jazz Dr Bob J.
Dr. Bob Jones – 9/10
Loving the mixture of sounds and creativity put into this production! It was hard to decide which I loved the best! Great work!
DjHousecat (la gata de fuego) Cyberjamz Radio / Toupee Records – 8/10
OHH MY GOODNESS!!!!! THIS IS GAMMA AFFECTION HOTNESS!!! THAT DREAM OF EQUATOR ORIG!!!!!! YESSIRRR!!!!
Harold Brandon (IN BLUEBLACKNESS) – Cyberjamz Records – 10/10
Nice stuff.
Black Vinyl – 8/10
All really nice classy productions Love all the tracks Martin
Martin White – 9/10
Whole package absolute Fire! Dreaming Of Equator (Original Mix) for me
James Thompson – 10/10
nice and well rounded EP with afro-ish styled house. Especially loving 71 Degrees and Hot mars… Thanks a lot, will play!
Khillaudio – 9/10
Dope !!! – Dj Phantom – Cyberjamz/Toupee Records 10/10
Dreaming of the Equator (Dj Eddie D Tropical Groove Mix) is the one for me . The original mix is nice as well. Kinda digging the 71 Degrees of jazz too.
Anthony Nicholson – 8/10
71 degrees and hot mars are top notch!
Hamza Rahimtula – 8/10
Deep and earthy instrumentals.Im a fan of the percussive elements!
Dj Buzzard – Cyberjamz/Toupuee Records 10/10
71 Degrees and Hot Mars Cold Earth sound good…but why you so scared of the kick drum? 🙂 Let that bad boy thump! Dreamin of Equator…sadly, forgettable. The remix, even more so, I'm afraid. Still, a solid release! "
Malcolm Moore – 7/10
Nice one HÃ¥vard! Some real Jazzy vibes here. Jazzy Jens
Jazzy Jens – 9/10
Fantastic EP! I remember other times, good times about House Music. The world needs more than this. Wil play!
DeejayKul – 10/10
Full Support
Oscar P – 10/10
nice package-loving all but 71 degrees of jazz is my fav.
Eaze Coleman – 8/10
Nice release. My personal favourite is track 3 but they all sound nice to me.
Brad P – 8/10
A great EP filled with Jazzy afro beats ! Loving the "Hot Mars" & "Cold Earth" afro beat mix with female vocal overlay,great tracks.Also the "Dj Eddie-Ed Groove Mix" is on point with those jazzy vibes!
Reviewed by Dj Hammy in full support.
EP Overall is smooth and I give it a 7 out 10. The track I'm going to be rocking for sure is "71 Degrees of Jazz".That definitely grabbed my attention stright off the bat !
Reviewed by Ronald Overby (Dj RonnieRon)
We love your tracks and we will feature them on our Delectabeats Show !
Reviewed by Afro-Disiac Radio 8/10 score
Very Atomospheric and deep. Diggin it !
Reviewed by Tayo Wink 9/10 score
I really liked "71 Degrees of Jazz Original Mix". I also liked he "Hot Mars" and the "Cold Earth" alot too but the banger here in this package is "Dreaming of Equador" (Dj Eddie-Ed's Tropical Groove Mix") really hot !
Thank you!
Reviewed by Ronald Overby (Dj RonnieRon) score 9/10
Jazzy,smooth and pleasant to the ears!
Reviewed by Pistol Pete 8/10 score
YES… Really grooving with Hot Mars!… Very Nice!
Reviewed by Glen Williams – MyHouseRadio.FM
Visit http://djhwah.wixsite.com/hwah for upcoming remixes and info.
Release Date: 9th of December 2016 on Traxsource
Tracklist:
1. Dreaming Of Equator – original mix (7:45)
2. 71 Degrees Of Jazz – original mix (7:49)
3. Hot Mars Cold Earth – original mix (7:38)
4. Dreaming Of Quator – Dj Eddie-Ed's Tropical Groove Mix (8:51)
produced by hWah
Additional production by Edward Ward
Track 4 Dreaming Of Quator is produced by Dj Eddie-Ed
Mastered by Oakfield Mastering
Cover Art: hWah
licensing,booking and info:
contact sammyrock@mail.com
Håvard Kvangarsnes djhwah@gmail.com
numusicpro@aol.com
A&R SammyRock for Coyote Enterntainment ASACP 2016
Another Cyberjamz Records Joint.
DJ EDDIE-ED
Edward Ward, known as DJ Eddie-Ed, discovered his love for music very early in life. Growing up in a neighborhood in Bronx, NY during the infancy of hip hop, DJ Eddie Ed was surrounded by innovative sounds and up-and-coming DJs and MCs like Kool Herc and Grandmaster Flash. This environment had a tremendous influence not only on his yearning to be a part of this exciting industry, but also on his desire to be the best at his craft.
Fast forward, DJ Eddie Ed's decades of experience and inclusion of music professionals with whom he has made alliances have evolved into a top-notch DJ Entertainment and music production company with a range of sound and recording services. He had the chance to work with producers and artist like Joe Flame, Alan"Speedy" Jackson, Shino Black, Mark Francis, Adam Cruz, Eddie Nicholas, Vanessa Jones, and Tayo Wink, to name a few.
Booking or remix inquires: numusicpro@aol.com
CYBERJAMZ RECORDS
Run by head honcho Sammy Rock aka Soul Oasis Cyberjamz Records has grown its catalog to over 180 releases. It has frequently been charted by both Traxsource and artists through the years since the first release The Deep Dance in 2007 featuring Princess Tam Tam (R.I.P). The label got both established artists and fresh newcomers on its rooster. You should check out War Bells by Dj Phantom, Luna En Red by Dovie Cote & Harold Brandon, Naked Soul by Vanessa L Smith, Spirit Of The Dance by Carlos Sanchez and Lorenzo Tyler featuring Kenny Carpenter Mix, That Shit That's Been Out by Doc'n'Tones, and She Says by Harold Brandon just to name a few of the latest releases.
Alongside running a label Sammy Rock is also the CEO of legendary Cyberjamz Internet Radio https://cyberjamz.com This internet radio station is one of the best there is if you like your soulful, deep, afro, and disco music since 2003. A variety of top presenters makes sure the selection always are on point. Catherine Harris Rowell aka Dj Housecat (la gata de fuego) is running The House Of Soul with Sammy each week. She also runs Toupee Records.
pick up hWah 7 Dj Eddie-Ed Remixes at:
Traxsource.com –http://bit.ly/1UGeRZt
Toupee Records – http://bit.ly/1MN9P9n
coming soon to I-tunes and other fine digital download stores.