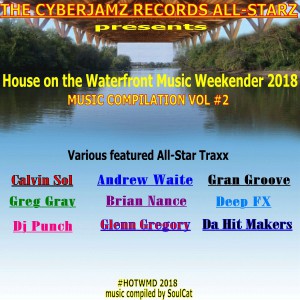 House On The Waterfront Weekender 2018 Music Compilation Vol#2 – The Cyberjamz Records All-Starz (Mixes by CalvinSol, Da Hit Makers ,Glenn Gregory , SoulCat,Greg Gray,Dj Punch,Gran Groove,Andy Waite,Deep FX & Brian Nance)
out now https://bit.ly/2I3K4IR
*All proceeds go towards cost of our event… A HUGE thank you to ALL of our All – Starz producers for participating in this project.
*Pick up Vol #1 from last year's #HOTWMD Compilation.
House On The Waterfront Weekender 2017 Vol#1 Music Compilation – http://bit.ly/2uqkCZV or http://bit.ly/2yeGh5X
This year we are proud to once again release our second edition of #HOTWMD Music Compilation which is a reflection of different genres of music ranging from soulful house to afro,to tech,there is something for every deejay and dancer in this pacakge. Our all-star cast of producers this year come from all parts of the world and each offer their own dance floor interpretation of house music.
All Star Music selections by new comers Calvin Sol , Glenn Gregory , Dj Andrew Waite & Gran Groove respectively.In additon to our new members we have our orginal team of Greg Gray (sensei),Erving Batista (Dj ERV) , BTech SoulOfferingznyc (BrianNance) , Deep FX , Da Hit Makers , Dj Punch & SoulCAT (SammyRock & DJhousecat(la gata de fuego). We want to thank you all for participating in this compliation and for believing in what we doing and for continuing to keep our musicial culture alive.
**All proceeds of this special compliation go towards the cost of our event..
If anyone attended last year. then. you know how much fun we had dancing,socializing and just chilling under the sun. The entire weekend turned out better than expected .This year come out and make History with us again !
The dates are Friday Aug 10 to Sunday Aug 12,2018. (The main closing finale is held at Bladensburg Park Maryland (DMV) DC/Maryland/Virigina area (USA) on Sunday but the other day one and two events are to be held during the weekend and info will be posted soon.
In the meantime if time permits join our fan and info page and stay connected at https://www.facebook.com/events/718524428350721/
Follow us today
http://www.instagram.com/hotwmd/
hash taggit at #HOTWMD
** We are looking for volunteers and sponsors for this event.Serious inquiries only!