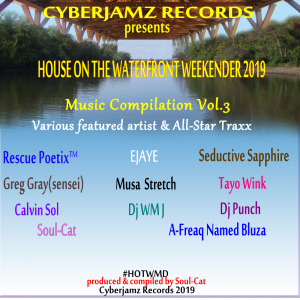 #HOTWMD Vol #3 Music Compilation (Various) – Cyberjamz Recs 2019. Target release date June 15.
Here we go with this years #HOTWMD Music Compilation by some of our hot artist and music producers. This time we are offering a few roll backs and unreleased music that has been sitting in the vaults. Wonderful pieces by Rescue Poetix , Sheila Johnson Seductive Sapphire & Erickas Voice – Ejaye. Also in this package are traxx by Calvin Sol ,Tayo Wink , Greg Gray (sensei), Dj Punch, Musa Stretch , A-Freaq Named Bluza & Soul-Cat (SammyRock & Catherine Harris Rowell).
All proceeds go toward our House on the Waterfront Weekender 2019 in DC/Maryland/Virginia and surrounding areas.
Stay connected
https://www.facebook.com/events/608191789610440/