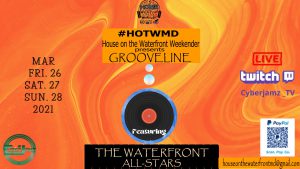 HOT TWITCHTV EVENT ALERT!!!
#HOTWMD (House on the Waterfront Weekender) presents the Grooveline feat our Waterfront All-Stars going down MAR 26 AT 4 PM EDT – MAR 29 AT 12 AM EDT
This will be our first online event to be hosted at the CyberTwitchTV featuring a few of our music programmers that have blessed our event throughout our outdoor history. This is a
The 3-day online event leading up to our 2021 outdoor #HOTWMD event to be held in Maryland USA in Aug. (TBA). So pick your dance floor! Get your beverage of choice ready and let's groove together!
It's been a long time since we've partied together! We miss our house family and look forward to the time we can all gather together to enjoy the energy in person. Until then, let's
relive some of our best Weekenders moments, dance moves, memories, and the DJs who make our events spectacular.
Broadcasting from Cyberjamz Twitch TV: https://www.twitch.tv/cyberjamz_tv
Invite your dancing partners, near and far, to join us for this nonstop dance party from some of the hottest DJs, spinning us all into a frenzy! Invite your friends to attend this
jam today!
THE ALL-STAR LINE-UP
The #HOTWMD Grooveline Cyber-TwitchTV event has a few new additions to our All-Star line-up House on the Waterfront Weekender Fri March 26,2021 till Sun March 28,2021.
The Grooveline All-Stars include the following.
Updated lineup
Friday, March 26th
4pm-6pm Damond Ramsey (Baltimore) (Quantize Recs)
6pm-8pm Pete Sierra (Pistol Pete) (Baltimore USA)
8pm-10pm Derrick DLow Singfield (DC/Maryland) (Cyberjamz Records – Toupee & DeeperSIDE of Cyberjamz) (Nubang Clan)
10pm-12am Geoffrey Cee (HOR Radio) – Baltimore
Saturday, March 27th
8am-10am Miss Frenchy (DC/Maryland) HOR Radio
10am-12pm, Tommy Wickens (Cyberjamz Radio)
12pm-2pm Danny Arrington (Cyberjamz Radio)
2pm-4pm Val McEwen (Cyberjamz/DHP Radio)
4pm-6pm Greg Gray (Nubang Clan Collective) (Cyberjamz Radio)
6pm-8pm DJ Terratori (DC/Maryland)
8pm-10pm Saeed Howard (WPFW FM)
10pm-12am Tim Soundscience (Cyberjamz Radio)
12am-2am Mark Moultrie (DMV)
Sunday
10am-12pm Neal Conway (URM) – Baltimore
12pm-2pm Sahib Muhammad (Toupee Recs/Quantize & Cyberjamz Radio)
2pm-4pm Jay Jay Tate (DC/Maryland)
4pm-6pm Wil Milton (Cyberjamz Radio)
6pm-8pm Dj Nubian (Cyberjamz Radio)
8pm-10pm Dee Clark (DC/Maryland) (DNA Injection Party)
10pm-12am DjPunch Zanzibar (Cyberjamz/Toupee/Deeperside of Cyberjamz Records/Baby Powder Music)
This is going to be our first CyberTwitchTv event and hope you guys can check-in and hear few of our Waterfront performers from past years
Sunday
10am-12pm Neal Conway
12pm-2pm Sahib Muhammad
2pm-4pm Jay Jay Tate
4pm-6pm Wil Milton
6pm-8pm Dj Nubian
8pm-10pm Dee Clark
10pm-12am DjPunch Zanzibar
Stay connected https://www.facebook.com/events/285567119591026