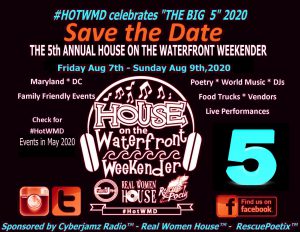 Ok.. I know it's a bit early and we are just getting over our coma from the Holiday & New Year events and vacations. It's time to get back to the grind. We know it's a bit early for this post, however, we are so excited in 2020 because this will be our 5th year having our House on the Waterfront Weekender Parties and this year will be a special one. GOD WILLING.
SAVE THE DATES- SAVE THE DATES- SAVE THE DATES!
Cyberjamz Radio/Real Women House & RescuePoetix Management bring you #HOTWMD – The 5th Annual House on the Waterfront Weekender 2020 in DC/Maryland/Virginia and surrounding areas are now in full preparation mode and so the dates are from Friday, August 7 thru Sunday, August 9, 2020, This is going to be another one for the history books as we celebrate 5 years of bringing you music by the waterfront and a few other events during this weekend. For those who attended the last few years, you have had the opportunity to party with us and have experienced how much we have grown as a family. We hope to continue this tradition for years to come.
Deejays and performers TBA. soon. So keep your ear to the ground.
#Poetry #SpokenWord #LivePerformances #Music #House #GlobalMusic #WorldMusic #Dance #Community Cyberjamz Radio/Records Releases & Records Labels Catherine Harris Rowell (Real Women House) RescuePoetix Management ** Like the page**
Keep connected for details on performances and DJs!