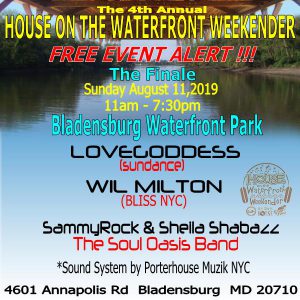 The 4th Annual #HOTWMD – Day #4 The Finale at Bladensburg Waterfront Park in Maryland USA. Sunday, August 11, 2019 at 11 AM – 7:30 PM (FREE EVENT) !
Last year we had blast and hopefully we can duplicate it once again this year by featuring LoveGoddess (Sundance/Baltimore), SammyRock aka Soul Oasis (C.E.O of Cyberjamz Radio/Records. & Wil Milton of Bliss NYC & Cyberjamz Radio.
*Back by popular demand is the Sheila Shabazz & The Oasis of Soul Band feat.Earl Ivey,Curtis McCain and our latest member of the band Anthony Ryan with music selections and routine production by SammyRock aka Soul Oasis. This one is going to be one for the books !
*Sound System by Porterhouse Muzik – NYC.
Stay connected with info and updates: https://www.facebook.com/events/608191789610440
4601 Annapolis Road, Bladensburg, Maryland 20710