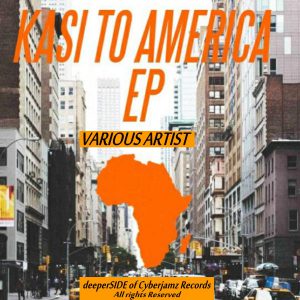 Well alright, you squares. Here we go with another Hot Release Alert! Various Artists "From Kasi to America EP" – deeperSIDE of Cyberjamz. Target release date Feb 28,2020.
We at Cyberjamz/Toupee & deeperSIDE of Cyberjamz have been working closely with several producers to bring you something a little different while stepping into new areas of music. This particular EP forthcoming on our label is another example of the chances we take with music and producers from across the World. This package expands our search as we wind up in South Africa featuring this awesome release entitled."From Kasi to America EP" feat. Various Artist. This is an Amapiano package delivered by Gentle Soul Recordings producer Katlego Nombewu (Dj General Slam),along-side a few South African producers currently releasing hot Ampiano joints.
What is Amapiano?
Amapiano is a genre of electronic dance music that emerged in South Africa in 2016. It is distinguished by its elements of jazz and high pitched piano melodies, kwaito basslines, low tempo 90's South African house rhythms and percussions from another local subgenre of house known as Bacardi. So let's see if it catches somewhere here in America unless there is a already one jammin at a state new you!
Tracklisting:
1.Name of track: Danger
Producer : TitoM, SjavasDaDeejay & KillerT (KS Groove)
The track was produced at the Radio Active Records Studio which is based in Pretoria, Attredgeville
Published By : Radio Active Records (SA)
2.Artists: Tumelo Tshabalala &
Moneoa Mawela
Publishing: Gentle Soul Recordings
Copyright's: Gentle Soul Recordings
Track title: Dream Chasers
3.Artist: Delani Mxolisi Mkhabela
Title : Khwezela Piano
Composed by : Spet Error
Recorded at : Gentle Soul Recordings
Publishing: Gentle Soul Recordings
Copyright's : Gentle Soul Recordings
4.Artist: Thulani Doctor Sibeko
Composed by : Toolbox
Recorded at : Gentle Soul Recordings
Publishing: Gentle Soul Recordings
Copyright's : Gentle Soul Recording
Keep your ear to the Ground – deeperSIDE of Cyberjamz Recs.2020