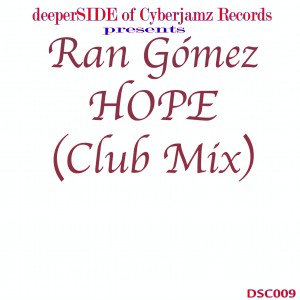 Hot dayum Release Alert !
"Hope" – Ran Gómez Plata (Club Mix) – deeperSIDE of Cyberjamz Records 2017.
With all the madness going on in our world,sometimes the only thing we have left that bring us some sort of peace is music as it calms the savage beast. We need "Hope" in your hearts for people,places and things as Faith will pull us through especially when we work together as one.
Ran Gomez once again delivers a great soulful house piece full of musical elements such as a wonderful spoken-word lyrics, organ riffs layered out proper , percussions throughout banging beats and those lovely hand-claps to make it complete.This is a very good cut and I'm sure you and your dancers will approve once heard in a slammin system.
coming soon to deeperSIDE of Cyberjamz Records 2017.